Taste of Rome: Private, All-Inclusive Food Tour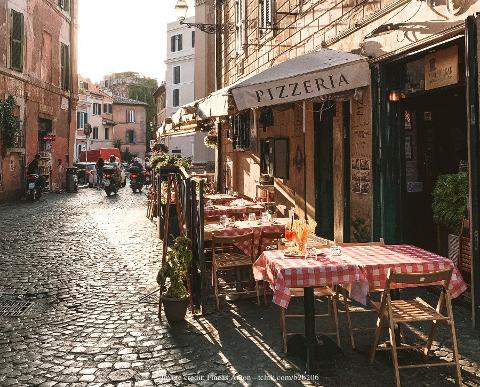 The perfect, all-inclusive tour for foodies and all things Italian! Taste the real and authentic Rome with your expert local guide.
Itinerary Details
Enjoy a fun-filled, delicious and scenic food tour, eating out and about in some of Rome's loveliest neighbourhoods with the expert guidance and knowledge of your guide. On your private tour you will: 


Enjoy eating like a Roman with the personalised attention of your private tour guide.
Enter a wide variety of local markets and eateries, sampling fresh, traditional local Roman produce on this lively, interesting and not to mention tasty tour!
Try a variety of cheeses, cold cuts of different meats, pizza 'al taglio', and traditional Roman street food 'fritti' (fried food) like Suppli and trapizzino.
Meet and chat with the passionate owners of the food stalls, shops, cafes and restaurants you'll visit – many of whom have proudly worked in the business for several generations. 
Enjoy wine and beer at different stops, included throughout your tour.
Enjoy the sights, sounds and delicious smells wafting on the breeze as you begin sampling the local produce and learn about where it comes from and how it's made.
End your tour just off Piazza San Cosimato with delicious artisanal gelato! 
When in Rome, eat like a Roman! This fabulous and all-inclusive food tour takes in some of the most enchanting, traditional neighbourhoods of Rome as you taste your way through the delicious flavours of the Eternal City. From traditional cheeses like burrata and pecorino and cold cuts of meat to warming, delicious street food like trapizzino and pizza by the slice. Enjoy 'suppli' –traditional fried rice balls with tomatoes, mozzarella and minced meat and enjoy the sun-ripened flavours of Italy in one mouthful. 

This is a great opportunity to experience authentic Italian cuisine and learn about the country's delectable wines and flavours. Embrace the smells, buzz and charm of traditional neighbourhoods as you saunter down cobbled alleys and enchanting piazzas. Your tour guide will take you to the best local eateries, markets and shops, where you will not only get the chance to taste the delicacies but also learn about the people behind the magic. Understand the traditions and values that have produced such tasty good food for generations. The Romans – and all Italians – really appreciate homemade, fresh, local produce – so it's not surprising that Italian cuisine leads the way when it comes to global gastronomy. Your tour includes a very full meal's worth of tastings, wine and soft drinks are also provided throughout the tour, so make sure to arrive on an empty stomach!
Tour duration
3 hours
Type of tour
Walking tour – no transport costs are included. Your guide will help you get around on the day.
Tickets included
Food & drinks tastings throughout the tour
Other inclusions
Gratuities not included. 
Suitable for
Culture Vulture, Family, Foodies, Friends
Attractions along this route:
Campo De' Fiori
Host to a daily fruit and vegetable market, this square is a great place to soak up the atmosphere of Rome.
Trastevere
A busy, charming and characterful district across the Tiber which has kept hold of its authenitic Roman feel.
Wine
When in Rome, drink what the Romans drink.
Italian food
Italian cuisine is the most popular in the world, but there's much more to it than just pizza and pasta.
Gelato
The world-famous Italian ice cream perfect on a hot day in the city.