The Statue of Liberty and Ellis Island Tour with a Private Guide
Instant Confirmation
Private Tour
3.5 hr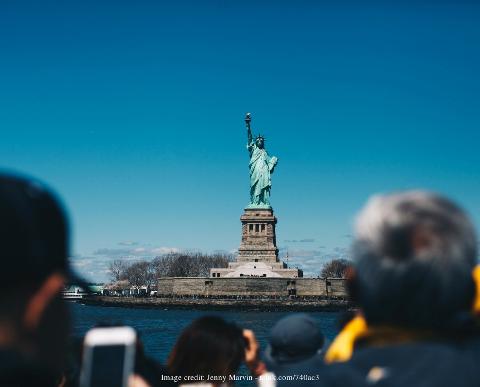 Visit the Statue of Liberty, symbol of democracy, and discover the history of US immigration on the Ellis Island.
Itinerary Details
Operated by: Travel Curious
See New York through a different perspective in a tour that takes you out to the islands in Upper Bay. With visits to both the Statue of Liberty and Ellis Island, you will be able to see New York from the perspective of so many of the immigrants who helped grow the wealth and history of the United States. 
 
 Visit Liberty Island and Ellis Island in just 3.5 hours, with tickets included
 Enjoy booked priority entry into the Liberty Island Ferry Screening Facility Queue in Battery Park.
 Sit back and relax as your local guide expertly navigates you between the islands' must-see sights and best photo opportunities.
 See the Statue of Liberty up close, and learn of her remarkable story, as well as her significance to modern America. 
 Explore Ellis Island and the story of US immigration.
 Enjoy the breathtaking view over the Manhattan skyline from the water.
 End the tour on Ellis Island, where your tour guide will give you the option to return with him/her to battery park or to stay longer on the island and take the 15 min Ferry back to Battery park at a later time.
Please note that tour guides are not allowed to guide inside the Statue of Liberty Museum and the Ellis Island Immigration Museum. Your guide will give you full information on each island and then silently accompany you through the museums. He/she will be able to answer questions you may have but not actually "guide" you through the museums.
 
It is estimated that forty per cent of the entire US population can trace at least one relative's arrival to the US, through the port of New York and Ellis Island. At Ellis Island, you will discover the many extraordinary stories of families journeying to New York City since the earliest days of the United States' founding. At the museum, your expert local guide will talk you through some of the exhibits on display. 

You will also have time to properly enjoy the museum at your own pace, as you immerse yourself in a similar journey to that of a newly arrived person. You will be able to grab a bite to eat on the island, or alternatively, you may purchase some snacks on the ferry back to Manhattan.
 
You will begin your tour at Castle Clinton, a former Fort in Battery Park, where you will board the ferry to the famous Liberty Island. Along the way, you will learn about the remarkable history of the Statue of Liberty, as well as its significance to modern America. From here you will also be able to enjoy a breathtaking view over the Manhattan skylines and harbour. 
 
Boarding at Liberty Island, you will hear all about the fascinating history of the Liberty figure, and how this 100th birthday gift to America from France was shipped from Paris to New York, and finally unveiled after 10 years of construction in 1886.
Tour duration
3.5 hours 30 minutes
Type of tour
Walking tour & Cruise
Tickets included
- Priority access tickets to ferry to Liberty Island
- Statue of Liberty Museum on Liberty Island
- Immigration Museum access at Ellis Island


Other inclusions
-  Gratuities not included
-  Food and drink not included
Suitable for
Couples, Family, Friends
Attractions along this route:
Battery Park
This historic park on Manhattan's southern tip hosts a number of memorials and a rather special carousel.
Statue of Liberty
An emblem of America and its ideals of freedom, Lady Liberty has welcomed visitors since 1886.
Pedestal Museum
Located inside the Statue of Liberty's pedestal, the museum displays interesting Liberty exhibits including her original torch.
Ellis Island
This island served as New York's main immigration station from 1892 until 1954.
Castle Clinton
19th century fort in Battery Park