Visit Krakow's Old Town & Wawel Castle: Private Half-Day Tour
Instant Confirmation
Private Tour
4 hr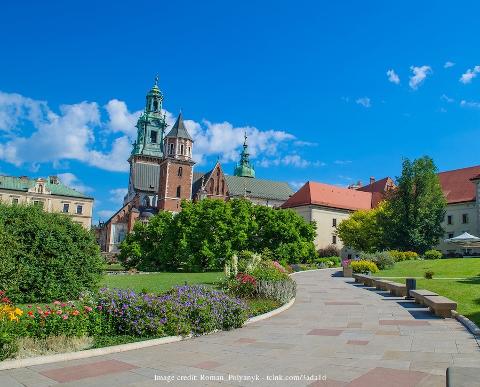 Enjoy the best of Krakow's old town and visit Wawel Castle, a UNESCO World Heritage site and one of the most renowned locations in the city, and St mary's Basilica on this private-half day tour.
Itinerary Details
Operated by: Travel Curious
Previously Poland's capital, Krakow is one of Europe's hubs for history and culture.  On this private half-day tour, you will dig up that history as you explore Krakow's old town, including the Old Town. On your private tour you will:


Enjoy the ease of a private vehicle, including hotel pick-up, drop-off, and roundtrip transfers from the Old Town to Wawel Castle. 
Enjoy skip-the-line admission tickets to Wawel Royal Castle, Wawel Cathedral, and St Mary's Basilica.
Visit Wawel Castle, which was the first UNESCO World Heritage Site in the world.
Visit where Polish monarchs were coronated at Wawel Cathedral. 
Tour Krakow's Old Town, where you will see many of its highlights, including the Royal Road, Church of Saints Peter & Paul, and St. Mary's Basilica.
Have the personal attention of a private, licensed tour guide accompanying you throughout your day. 
Your half-day tour is the perfect introductory tour for anyone new to the city, where you will learn about the country's medieval history and tour its' spectacular highlights, including a visit to the world's first UNESCO World Heritage site. 

Your tour begins at one of Krakow's most renowned locations: Wawel Castle, the massive structure sits upon Wawel Hill, overlooking the Vistula River. The castle served as the royal and political centre of Krakow for centuries, dating back to the eleventh century. Before becoming a museum in 1930, the castle was also a hospital, a military barracks, and a governmental residence.  

Afterwards, your guide will take you into Old Town Krakow, where some of the finest examples of medieval architecture remain today. 

Visit the city's main square, full of shops, bars, and cafes. Your next stop will be St Mary's Basilica, where you'll see one of the finest examples of Polish Gothic architecture and see the spectacularly ornate, multicolour altarpiece which dominates the front of the church. 

Lastly, you will visit the idyllic park, Planty Park, which encircles all of Old Town. 
Tour duration
4 hours
Type of tour
Driving tour: including a private vehicle throughout the tour
Tickets included
- Skip-the-line tickets to the Wawel Castle State Rooms and St. Mary's Basilica    
- Private transportation: Hotel pick-up, drop-off, and return transfer from the Old Town to Wawel Castle
Other inclusions
- English Speaking Tour Guide
- Gratuities optional
Suitable for
Family, Friends, History Buffs, Intellectually Curious
Attractions along this route:
Main Square (Rynek Glowny)
A gigantic medieval square, Rynek Glowny is Kraków's beating heart.
St Mary's Basilica
A model of Brick Gothic style, this church is home to the Poland's national treasure: the gigantic wooden Altarpiece of Veit Stoss.
Wawel Castle
This castle perched atop Wawel Hill was the centre of power in Poland for centuries, and is the country's most important historical site.
Wawel Cathedral
Over 900 years old, this gorgeous cathedral is the coronation and burial site for Polish Kings and Queens.
Planty Park
Encircling the Old Town, the thirty scenic gardens of Planty Park are perfect for a relaxing stroll.
Jagiellonian University
Founded in 1364 in Krakow, the Jagiellonian University is the oldest higher education institution in Poland and one of the oldest in all Europe.