Mount Vernon & Alexandria: Private Day Trip from Washington DC
Instant Confirmation
Private Tour
8 hr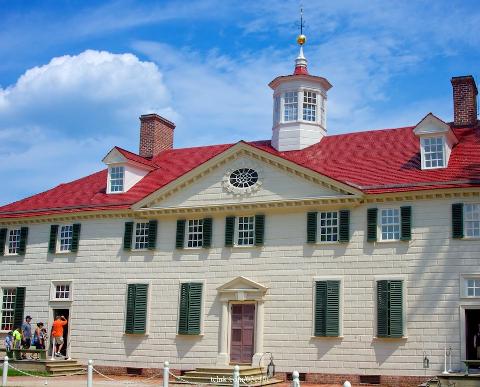 Embark on a private day trip to Mount Vernon and Alexandria from Washington DC and explore the home of America's first president, George Washington, and his hometown famous for its colonial history.
Itinerary Details
Operated by: Travel Curious
Enjoy a private full-day trip to Mount Vernon and Alexandria from Washington DC and discover the home of America's first president, George Washington granted to him by his great-grandfather, John Washington, with a 500-acre estate, and explore his hometown nearby Alexandria, famous for its colonial history and association with the founding fathers. 

On this private day trip, you will:


Explore Mount Vernon, declared a National Historic Landmark in 1960, home and resting place of America's first president, George Washington;
Immerse yourself in the lives of the US first President and learn all about the history of Washington's 500-acre estate,  which was not only his beloved house where he lived until his death but the source of much of his wealth;
Learn all about his life, and the history of his era while exploring this Founding Father's home;
Enjoy a fascinating 4D video experience at the Revolutionary War Theater within the Education Center;
Take a stroll down Old Town Alexandria, characterised by 18th-century townhouses and cobblestone streets;
Walk along King Street, where your guide will happily show you  some of the best local eateries;
Learn all about Alexandria, a designated historic district, an architecture lover's dream destination with Georgian, Victorian and Mid-Century style structures;
Visit Christ Church, built in the 18th century in an English country style, where notable literary figures attended services and were buried;
Hear about the Gadsby Tavern where several important revolutionaries would meet, many of whom went on to become American presidents;
Learn about the notable figures who called Alexandria home, including George Washington who first fell in love while living in the city;
See some of the country's greatest Georgian architecture, and stroll down Captain's Row, an iconic street of cobblestone blocks;
Visit one of the largest art collectives in the country in a converted Torpedo Factory Art Centre;
End your tour with a relaxing drive to DC.

Learn all about the life and revolutionary times of George Washington his achievements, his friends, allies, and enemies, and how he came to be America's first president on this private tour of his home at Mount Vernon, and his hometown of Alexandria - just a short drive from Washington DC. 

Meet your guide and driver at your hotel and set off to Mount Vernon, your first stop. Mount Vernon is a sprawling 18th-century palladian mansion set on 500 acres of plantation land. It was purchased by the Washington family in the 1730s and would become the permanent residence of George Washington, a Founding Father, a general and commander of the Continental Army during the Revolution, and the man who would become the first president of the USA. 

George Washington lived here with his wife Martha until his death in 1799. It is a large, sprawling Palladian mansion, situated on the banks of the Potomac River in Fairfax County. It is now considered an American landmark and welcomes thousands of visitors every year. 

During your tour of the house, you will hear the many stories of Washington's life - how he became an unexpected military success, and how his wife stayed with him at the front. 

He considered himself first and foremost a farmer; as an educated man and product of the Enlightenment he believed in the principles of freedom: however, he had a complicated relationship with the Native Americans, and worried about the negative consequences of slavery on the nation.  

He and Martha had no biological children, but he had a huge family of siblings and stepchildren and step-grandchildren. A sickly man, he died of a throat infection, having set America on its road to independence. 

After a guided tour of the mansion house, enjoy an immersive 4D video experience at the Revolutionary War Theater at the Education Center next door. Learn all about the rise of George Washington and his military and political successes. 

After Mount Vernon, it's time to head to the historic town of Alexandria, you will hear about one of America's earliest cities, where many of the Founding Fathers gathered to discuss their revolutionary ideas, from Washington and Jefferson to Frenchman Lafayette and founding trustee John Carlyle.

After a hearty lunch break, you will explore Alexandria's historic district, on a fascinating walking tour as you learn all about the build-up to and success of the American Revolution. Visit various sites associated with Washington and his friends including Christ Church and Gadsby's Tavern, where you will hear of the letters written between other notable past presidents — Thomas Jefferson and John Adams — political opponents who went on to have an epic friendship, carried out largely through their letters. 

In the churchyard, you'll find many notable gravestones. You'll see some of the country's greatest Georgian architecture, from Carlyle House to the City Hall, and walk along Captain's Row, where the cobblestone roads date back to the early 1700s. You'll learn about the city's inescapable colonial past, and how Alexandria was created, built on the backs of African American slaves for the landed gentry. 

Visit the historic Alexandria waterfront, which is always bustling now with water taxis and private craft, and visit the Torpedo Factory Art Center to see the city's vibrant art scene. 

Finally, hop in your private car for your return trip towards DC!


Tour duration
8 hours
Type of tour
Driving tour: including a private vehicle throughout the tour
Tickets included
- English Speaking Guide
- Mount Vernon Mansion, Museum and grounds admission tickets
- Hotel pick-up and drop-off from your centrally located hotel
Other inclusions
- Gratuities optional
- Additional tickets are not included
- Food and drink are not included
Suitable for
Couples, Family, History Buffs, Intellectually Curious
Attractions along this route:
Christ Church Alexandria
With over 250 years of history, the church has served as the parish to notable founding fathers, and has found itself the subject of an early case before the Supreme Court.
Gadsby Tavern & Museum
The tavern is renowned for its litany of connection to the Founding Fathers, including as the site where Jefferson held his inaugural ball. Attached is the Museum of this Historic Site.
Alexandria City Hall and Market Square
Originally a market square and the courts of the eighteenth century, the building standing today was erected in 1872 and remains at the center of life for Alexandrians.
Torpedo Factory Art Center
Opened at the close of World War I, the torpedo factory was in production for more than 20 years, before ending its mission after the second World War. Now, it serves as space for local artists to work and showcase their crafts.
Old Town Alexandria Harbor
The historic waterfront is lined with numerous restaurants, along with water taxis which can take you up and down the Potomac, and over to DC.
Mount Vernon
American landmark and home of the first president of the United States George Washington and his wife, Martha.
King Street Alexandria
King Street is a major road in the historic Old Town Alexandria that extends westward from the Potomac River waterfront offering tourist gift shops and restaurants.