Downtown LA's History & Architecture: Private Walking Tour
Instant Confirmation
Private Tour
3 hr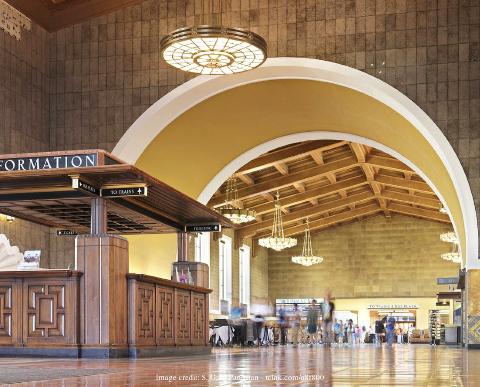 Enjoy a private walking tour of downtown LA and discover its rich history and eclectic architecture, along with many gems which offer a unique blend of Art deco and Beaux-Arts styles.
Itinerary Details
Operated by: Travel Curious
In a city blessed with blissful light, innovation and bold visual design statements, Los Angeles is full of architectural gems that only make sense in the context of the history around which they were built. Discover an ever-evolving urban centre with a unique blend of Art Deco and Beaux-Arts architectural landmarks, modern skyscrapers, and historic landmarks.

On your private walking tour, you will: 
Begin your tour at Union Station, known as the last of America's great train stations;
Walk to Olvera Street, known as "the birthplace of Los Angeles", a block-long tree-shaded Mexican marketplace is part of the El Pueblo de Los Angeles Historical Monument;
See Avila Adobe, the oldest surviving residence in LA;
Admire the Cathedral of Our Lady of the Angels, a stunning modernist masterpiece;
Wander at the stainless steel design of the Walt Disney Concert Hall, home to the Los Angeles Philharmonic;
Walk past the U.S. Bank Tower, the tallest building in California;
Discover Los Angeles Central Library, one of the largest public library systems in the world;
See a railway on a steep hillside, opened in 1901 to ferry passengers up and down the steep slope to the top of Bunker Hill and remains one of LA's most endearing landmarks;
Walk down Broadway, a vibrant symbol of LA's spirit and soul. Its' stunning signature Mission Modern style combines Spanish Colonial, Mission Revival and Art Deco architecture.
See the Biltmore Los Angeles, a historic hotel in LA that has hosted many famous guests throughout the years;
Visit The Bradbury Building - where the modest mildly Romanesque exterior hides a magical light-filled Victorian court, open cage elevators, marble stairs, and ornate iron railings,
End your tour at the Grand Central Market, which boasts vintage neon signs, glorious 1960s tile work and original Beaux-Arts detailing.

From bold esoteric newcomers like the monumental Broad Museum to landmark favourites such as Bradbury Building built in 1893, Los Angeles is a city rich in iconic architecture - it's rare to see two buildings alike. 

You will discover sharp, crisp right angles of modernist architecture, the dazzling exoticism of soaring spires and fairytale towers, and grand palatial estates. 

Backdropped by year-round blue skies and golden sunshine, LA's structures are showcased to perfection in the city's famous sublime light. This tour will dazzle with the porous alabaster-white shell facade of the Broad Museum, the glinting curves of the Walt Disney Concert Hall, the city's downtown cultural centrepiece, and the old Mexican influences of El Pueblo de Los Angeles Historical Monument and its tree-shaded plazas. 
Pass lush sculptural landscapes on our way to be wowed by the geometric light-filled design of the Cathedral of Our Lady of the Angels, José Rafael Moneo's Pritzker-prize-winning structure. 

This compelling tour - popular with visitors and Angelinos alike - provides the fascinating backstory to the growth of this great city, from its humble origins to the present day, as told through its striking, unique architecture. 
Tour duration
3 hours
Type of tour
Walking tour: no transportation is included
Tickets included
- English-speaking tour guide
Other inclusions
- Food, drinks, and gratuities are not included
Suitable for
Arty Farty, Couples, Family, Intellectually Curious
Attractions along this route:
The Bradbury Building
This landmark is known for its architectural beauty and starring role in Film Noir classic, 'Blade Runner'.
Walt Disney Concert Hall
Beautiful architecture in downtown Los Angeles.
Union Station, Downtown LA
Built in 1939 - before cars and planes became the travel MO of Americans - Union Station in downtown was built to consolidate the stations of three different major rail lines.
Olvera Street
The street was created in the 1930's to preserve Mexico's heritage in the city, and it continue to serve this purpose nearly a century later.
Cathedral of our Lady of the Angels
Built in under three years from 1999-2002, this modern Cathedral has virtually no right angles and is one of the city's architectural masterpieces.