Little Italy, Greenwich Village, Soho & Chinatown: Private Tour
Instant Confirmation
Private Tour
3 hr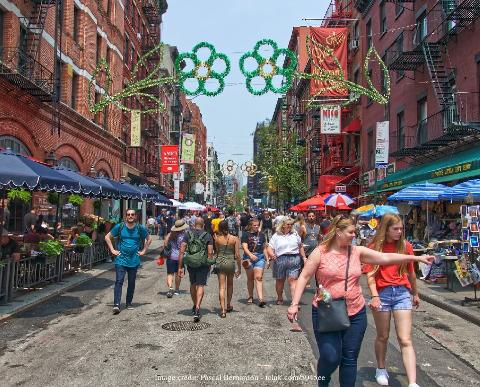 Immerse yourself in the history and culture of Manhattan's most popular districts including Little Italy, Greenwich, Soho & Chinatown on this private half-day walking tour.
Itinerary Details
Operated by: Travel Curious
Welcome to New York City and Manhattan - the core of the Big Apple! Made up of several cool and quirky neighbourhoods, full of iconic New York history and made famous in movies and TV series, this fascinating private tour will take you around the trendy and bohemian areas of Little Italy and Greenwich Village, Soho and Chinatown. 

 On your private tour, you will:  


Begin your tour in the bohemian Greenwich Village - where Hemingway, Poe and Jackson Pollack have all lived; 
See where the 'Friends' flat was, and the Washington Arch;
Learn about the Stonewall Riots, and see the Monument dedicated to it;
Visit the artistic soul of New York City in Soho, filled with galleries and art museums;
Learn about the cast iron facades that flank the streets;
See the Haughwout Building - home to the first safety elevator and the Old Police Headquarters;
Learn about the history of the immigrants in Little Italy and Chinatown, and how each neighbourhood has come to be a local diaspora;
Admire Old St Patrick's Cathedral built between 1809-1815;
Pass by the Ravenite Club - a famous gangster hangout - and hear some of the dramatic stories of the Mafia;
Stop outside Lombardi's Pizzeria - the very first pizzeria in the entire country opened in 1905;
Step inside Alleva Dairy - the oldest cheese shop in NYC;
Your tour ends in the heart of Little Italy - where your guide will happily recommend some of the best Italian restaurants and shopping areas.

Simply known as "The Village" and much loved by native New Yorkers, Greenwich Village is home to America's Bohemian scene. Filled with artisanal coffee houses, art galleries, and chic boutiques you will see where the 'Friends' flat was located, explore Washington Square Park, a buzzing city hangout, and see beautiful architecture, including 19th-century brownstone carriage houses. 

See some unusual spots like the home where John Wilkes Booth spoke openly of his plan to murder President Abraham Lincoln. On your way out of the neighbourhood, you'll see Jefferson Market Library and Bleecker Street, as well as where Hemingway, Edgar Poe, and Jackson Pollack lived and worked. 
Next venture through vibrant Soho, where your guide will tell you about its transformation from its humble beginnings as a centre for the rag trade industry, eventually becoming an extravagant artist community. See Soho's unique collection of cast iron buildings such as the Haughwout Building, home to the first safety elevator, and the Old Police Headquarters— the 1909 Beaux-Arts building.
 
From there, while walking the narrow cobblestone streets in the heart of Little Italy, you will learn about Mafia hangouts, the most famous of which is the Ravenite Club. Pop into the oldest cheese shop in NYC and the first pizzeria, Lombardi's, and explore Old Saint Patrick's Cathedral. 

Journey through NYC's Chinatown, walk along Canal and Motts Streets, the former Five Points District, and the Old Opium Den, where you will hear stories of Chinese immigrants who came to Manhattan to build a future of their own. Your expert local guide will also tell you all about the violent gangs that sprang up around them, fighting for dominance. 

Your tour will finish in the vibrant, cultural heart of Little Italy - filled with restaurants, shops and good vibes! Your guide will happily direct you to any number of eateries where you can rest and recharge before continuing to explore at your leisure. 
Tour duration
3 hours
Type of tour
Walking tour: no transportation is included
Tickets included
- English Speaking Guide


Other inclusions
- Gratuities optional
- Food and drink are not included
- Hotel pick-up and drop-off are not included
Suitable for
Couples, Family, Friends
Attractions along this route:
Greenwich Village
The bohemian capital of the world - and these days one of America's priciest neighbourhoods.
Washington Square Park
Dominated by a triumphal arch, this beautiful park has a tradition of celebrating nonconformity.
SoHo
South of Houston Street is a historic district famed for its artistic atmosphere and cast-iron façades.
E. V. Haughwout Building
Created in 1856, this cast-iron landmark is home to the first passenger elevator.
Little Italy
A nostalgic area full of the legacies of Italian immigrant culture at the turn of the 20th century.
Manhattan Chinatown
A bustling district home to the largest Chinese population in the Western Hemisphere.