Heart Of Rome Golf Cart Tour
Instant Confirmation
Private Tour
4 hr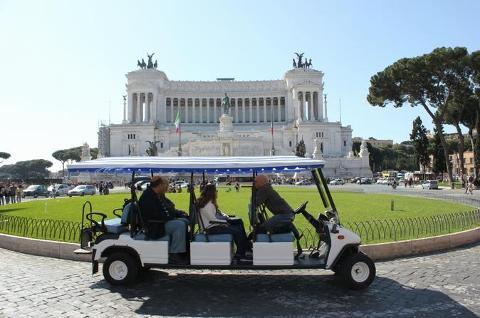 Explore Rome's hidden alleyways and key sites with a relaxing tour by golf cart.
Itinerary Details
Cruise through Rome's highlights as you sit back and relax in your private golf cart.


Combine the intimacy of a walking tour with the comfort of a driving tour.
Discover the real Rome: the hidden back streets that only a small vehicle or pedestrians can access. 
Mobility not an issue: be driven right to the doorstep of buildings and through areas where cars aren't allowed to drive.
Visit the magnificent Spanish Steps that lead to the beautiful Trinita dei Monti Church. 
Make a wish at the stunning Trevi Fountain and learn about the various myths behind the coins in the fountain. 
Step inside the over 2000 years old Pantheon – one of the best-preserved Ancient Roman buildings in existence. 
See the Colosseum (outside) Piazza Navona, Palazzo Venezia (outside) and Campo De' Fiori.
Often referred to as the "Eternal City", Rome is undoubtedly one of the most historically and culturally vibrant cities in the world. Here, you will come across the Pantheon and the Piazza Navona – two landmarks that date back to the Roman Empire; in addition, you'll have the opportunity to see the amazing architecture of the Trevi Fountain and the Spanish Steps from the Rococo (late-Baroque) period. 

This three-hour golf cart tour is designed to give you a perfect overview of the city: visit the key sites in the centre and be shown all the best hidden haunts and local hangouts that you might otherwise miss. A golf-cart tour allows you to access parts of the city that cars and tour buses cannot. Stop off at attractions or for gelato whenever you feel like it, go for a wander through Rome's winding cobbled streets and save your energy for the rest of the day by hopping back on your golf cart, which will be waiting, ready to whisk you away to your next destination. A great way to experience the magic of Rome in a comfortable and flexible manner – and your experience will be unaffected by the weather! 
Tour duration
4 hours
Type of tour
Golf cart tour (includes walking)
Tickets included
No tickets required for this tour
Other inclusions
A street legal Golf cart driven & accompanied by an expert guide
Wheelchair accessible
Gratuities optional
Suitable for
Adventurous, Culture Vulture, Family, Friends
Attractions along this route:
Trevi Fountain
A beautiful Baroque fountain, built at the end of an ancient Roman aqueduct.
Spanish Steps
Once you climb Europe's longest outdoor stairs, enjoy a beautiful vista of Rome with St Peter's Basilica in the distance.
Pantheon
Perhaps ancient Rome's most astonishing architectural feat.
Piazza Navona
A lovely square on the former site of the Stadium of Domitian, boasting wonderful Baroque fountains.
Campo De' Fiori
Host to a daily fruit and vegetable market, this square is a great place to soak up the atmosphere of Rome.