Taste the Best Scottish Ales: Rose Street Private Pub Tour
Instant Confirmation
Private Tour
3 hr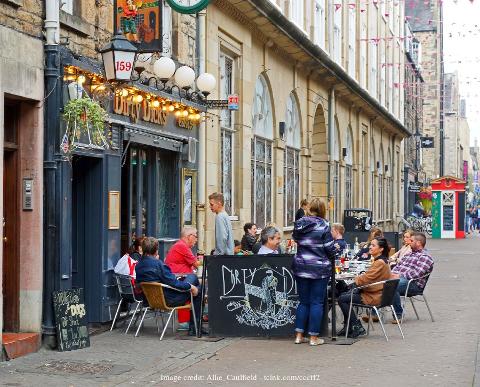 Explore the vibrant pub culture, whether you want a slice of history or a modern atmosphere, of Edinburgh's Rose Street and taste three wee drams of the best Scottish Ales with your private tour guide
Itinerary Details
Operated by: Travel Curious
Embark on a journey through time & heritage, from old to new within the heart of Edinburgh, home to many of the UK's oldest drinking establishments, with local pubs (or 'locals') at the heart of communities all over the city. The city's Rose Street is one of the most famous streets in Scotland, and for good reason – this intimate and friendly lane has played host to many great people over the years. Its pubs are still alive today with great stories, great beers and amazing food.

On your Rose Street private pub tour, you will:


Enjoy a walking tour of the famous Rose Street area in Edinburgh;
Stop at many traditional taverns and soak up the cosy, old-fashioned atmosphere of Edinburgh's historic pubs;
Learn about the history of traditional Scottish whisky and the cultural identity it has in Scotland;
Taste Scotch whiskey from independent distilleries, single malts craft blends and more;
 Enjoy the pub aroma of brass polish, yeast, hops and malt intermingled with the honeyed smell of Scotch whiskey and smouldering, smoky embers;
Visit three of the best-selected of the city's 700 pubs (that's one every 83 metres) in a population of 500,000;
Sip a pint of Scottish beer such as Belhaven Scottish Ale and Scottish Oat Stout;
Hear fascinating tales of Edinburgh's centuries-old pub culture;
Enjoy a tasting of either a local beer, house wine, or a wee dram (single shot) of whisky at each of the three pubs;
End your tour outside the entrance of Calton Hill, where you can climb up to continue exploring at your own leisure.

From the Middle Ages' spit-and-sawdust pubs that provided merriment for the poor, to 19th-century inns that offered an ear to life's successes and misfortunes, pubs have been a cornerstone of Scottish society for centuries, serving as default venues for every occasion. 

Rose Street, a narrow traffic-free stone stretch running parallel to the main thoroughfare, is Edinburgh's drinking heartland. Every pub in Rose Street has a tale to tell, from the bizarre and macabre to the curious. It is also famed in local lore for its drinking game – the Rose Street Challenge – in which pub-goers are dared to take a wee dram at every bar.

On your Tour of Edinburgh's Historic Pubs, swerve the mediocre and over-hyped to seek out pubs with authentic character. Your tour guide - a local expert - will take you to three of the best pubs on Rose Street, where you will enjoy a pour of whiskey or a pint at each stop (up to three drinks included). 

Nothing evokes bygone bars like the unmistakable smell of brass polish, yeast, hops and malt intermingled with the honeyed smell of Scotch whiskey and smouldering, smoky embers in the grate. 

Perchance you'll enjoy a tipple at The Abbotsford Bar, built-in 1902, and famed for its eye-catching centrepiece island bay crafted from dark-brown Spanish mahogany, divided into small serving ports by intricately carved railings. Another curious haunt, Milnes of Rose Street, has been a popular poetic pit stop with generations of quill-wielding Scottish writers since 1910. 

With its mind-boggling array of whiskeys, Scotts is the oldest drinking establishment on the block, pouring its first pint in 1790 - when George III was on the throne. Quirky artefacts ensure the decor is as oddball as its name, which honours a thirsty local man from centuries past who shovelled horse dung off the streets. 

No matter where you choose to pop into, each Rose Street pub will have a rich story to share with you.
Tour duration
3 hours
Type of tour
Walking tour: no transportation is included
Tickets included
- English Speaking guide
- One single-shot pour of whisky or pint at each pub (up to 3 pubs)
Other inclusions
- Gratuities optional
- Hotel pick-up and drop-off are not included
- Additional food & drinks are not included
Suitable for
Couples, Culture Vulture, Friends, Looking for Local
Attractions along this route:
The Royal Mile
The picturesque historic thoroughfare of the Old Town of Edinburgh.
Edinburgh Castle
For nearly 1000 years Edinburgh Castle has shaped Scottish history as both a royal residence and a military stronghold.
Princes Street Gardens
The lovely Princes Street Gardens lie in a valley previously occupied by the North Loch, drained during the construction of the New Town of Edinburgh.
Calton Hill
Crammed with monuments, Calton Hill is part of Edinburgh's UNESCO World Heritage Site and offers splendid views over the city.
Rose Street
Famous for centuries of drinking establishments, Rose Street is one of Edinburgh's most famous places for a pub crawl or a few after-work drinks.