Small Group Food Tour of Rome's Trastevere Neighbourhood
Instant Confirmation
Private Tour
3 hr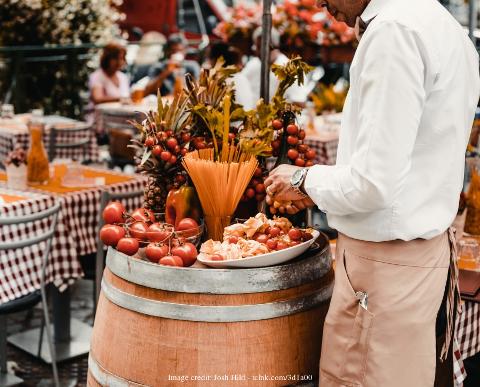 Explore quaint and historic neighbourhoods of Rome while tasting delicious food and wine.
Itinerary Details
Experience the romantic and vibrant atmosphere of a classic Roman evening of wining and dining on the best Italian food, as you wander around one of Rome's oldest and most beautiful neighbourhoods,  Trastevere. Popular with visitors and locals alike enjoy the relaxed atmosphere created by buskers and fellow revellers! On your small group tour, you will:


Enjoy the personal attention of your expert guide and a small group size of a maximum of 12 guests. 
Enjoy several tastings of classic Roman street food from sweet pastries to savoury appetizers, including delicious Suppli, Fritti, and Pizza al taglio (by the slice). 
Wander through the historic and scenic cobbled backstreets of the Eternal City.
Learn about the Jewish Ghetto created in 1555, famous for its traditional kosher cuisine and artichokes.
Discover the picturesque neighbourhood of Trastevere, with its maze of cobbled backstreets and ivy-clad terracotta buildings, it is famous for its traditional Roman cuisine and street food. 
Admire the amber colours of golden hour, and soak up Rome's warm and vibrant evening atmosphere. 
Enjoy a delicious supper of a selection of Italian pasta in one of Trastevere's best restaurants. 
End at a local gelateria for a classic Italian gelato ice cream for dessert! 
Experience a magical evening strolling through some of Rome's most idyllic and historic neighbourhoods like the vibrant Jewish Ghetto and iconic Trastevere whilst sampling delicious Roman food and wine along the way! On this small-group tour (with no more than 12 guests) you'll get to make friends with fellow visitors over a glass of wine, as you learn all about Roman food and wine from your expert guide. 

You'll not only learn all about the history of these vibrant areas of Rome as your stroll down the cobbled backstreets, soak up the lively atmosphere, and admire the ivy-clad amber buildings glowing in the golden hour, but enjoy stopping to try some classic Roman food such as pizza by the slice, and fried foods like baccala (battered cod) and Fiori de Zucca (fried mozzarella balls with courgettes and anchovy). You'll also try a Roman favourite: suppli. Rice balls in breadcrumbs, cooked in a tomato flavoured ragu and with a melted ball of mozzarella in the gooey centre! Yum. 

After filling up on various appetizers, you'll sit down at a local, family-owned restaurant in Trastevere, famous for its pasta dishes. Enjoy classic dishes like cacio e Pepe, amatriciana, carbonara, and others. Enjoy a glass or two of vino and learn all about the history, geography and winemaking process in Italy. Afterwards, enjoy a stroll to a gelateria for a dessert of delicious gelato, Italian ice cream! 
This is a truly magical evening, not to be missed! 
Tour duration
3 hours
Type of tour
Walking tour – no transport costs are included. Your guide will help you get around on the day.
Tickets included
-Food and wine tasting
-Sit-down dinner
-Gelato
Other inclusions
-Additional food and drinks are not included
-Gratuities are optional but not included
Suitable for
Couples, Culture Vulture, Family, Foodies
Attractions along this route:
Trastevere
A busy, charming and characterful district across the Tiber which has kept hold of its authenitic Roman feel.
Italian food
Italian cuisine is the most popular in the world, but there's much more to it than just pizza and pasta.
Piazza Santa Maria
A happening square in the heart of Trastevere where you can relax, people watch and enjoy the festivities in the evenings.
Roman Wine
Historically believed to be a necessity, daily wine is simply part of daily life in Rome and has been for thousands of years.
Traditional Enoteche
Literally translated as a 'wine retailer', Rome is known for its' wine bars, with fantastic food dishes and sides to accompany the wide array of wines available for purchase.