Trastevere Small Group Food Tour
Instant Confirmation
Private Tour
3.5 hr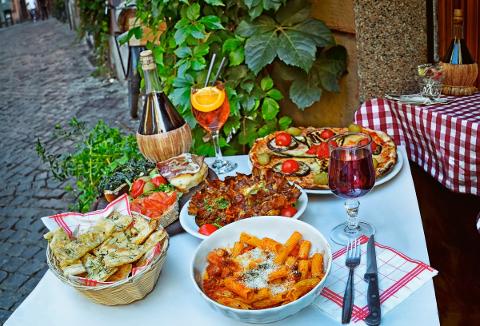 Uncover the food traditions of one of Rome's best neighbourhoods for fresh produce, restaurants and relaxation.
Itinerary Details
With its narrow cobblestone streets and strong sense of communal spirit, Trastevere is a must-see for any visitor to Rome. At night, it is a wonderful festive hangout for tourists and locals alike, with musicians playing in its narrow, winding backstreets and squares and diners and pleasure seekers spilling out from restaurants and bars. On your small group tour, you and up to 7 others, will:
Sample the freshest ingredients on several tastings throughout the course of the evening
Indulge in a sit down meal at a local, family-owned restaurant frequented by locals. 
Learn what 'suppli' are and why the locals love them.
Enjoy classic Romano food - like cacio e pepe or Amatriciana.
Taste the best pastries around and meet the neighbourhood's resident pastry chef of 40 years.
Learn about (and taste!) the real-deal gelato.
Sample award-winning local homemade desserts and visit authentic, old wine cellars.
On this evening  food tour, your local expert guide will show you the best of Trastevere's food scene: from family-run pastry shops and delicatessens to gelato and wine. Meet the people behind the magic and immerse yourself in this area's wonderfully preserved food traditions with several tastings throughout the walk.  

On the way, you will have the opportunity to stop by local churches and squares - your guide will provide you with a fascinating local insight into this neighbourhood's history and traditions and how they have had an impact on food culture. With your small group experience, you can enjoy a tailored, adaptable experience - and be entertained by your new friends along with your local guide. Receive  the best local advice for what to do and see for the rest of your stay. Get away from the tourist areas of Rome and spend a fascinating, indulgent day in one of Rome's most historic areas - this is an evening not to be missed!
Tour duration
3.5 hours 30 minutes
Type of tour
Walking tour – no transport costs are included. Your guide will help you get around on the day.
Tickets included
Several food tastings and a sit-down restaurant meal
Other inclusions
Gratuities not included
Suitable for
Couples, Culture Vulture, Family, Foodies
Attractions along this route:
Campo De' Fiori
Host to a daily fruit and vegetable market, this square is a great place to soak up the atmosphere of Rome.
Trastevere
A busy, charming and characterful district across the Tiber which has kept hold of its authenitic Roman feel.
Wine
When in Rome, drink what the Romans drink.
Food
Italian cuisine is the most popular in the world, but there's much more to it than just pizza and pasta.
Basilica of Santa Maria in Trastevere
An ancient and colourful Christian church in one of the liveliest spots in town.
Piazza Santa Maria
A happening square in the heart of Trastevere where you can relax, people watch and enjoy the festivities in the evenings.