Flavours of Barcelona: Private Tapas Food Tour
Instant Confirmation
Private Tour
3 hr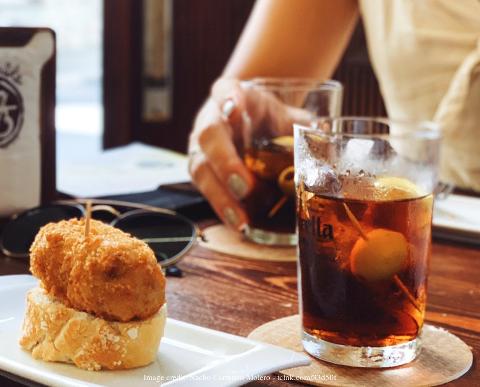 Taste the flavours of Barcelona on this private food tour and experience the Spanish custom of eating tapas, including jamón, olives, cheese, patatas and more!
Itinerary Details
Operated by: Travel Curious
Spain has known the world over for its food culture and heritage. Tapas restaurants have cropped up in every major city, but there's nothing like having an authentic experience in the Catalán capital. 

On your private tapas tour, you will: 


Enjoy several tapas tastings at various restaurants – all included and carefully curated by your guide;
Savour an assortment of Spain's finest dishes, delicacies and flavours; 
Visit a traditional Spanish food market;
See highlights of the Gothic Quarter, including the wide passenger walkway 'La Rambla';
Eat where the locals eat and drink while experiencing authentic Spanish cuisine;
Learn about Catalonian tradition and the history of the diverse food from each region. 

If you are passionate about food and if sampling the best of local cuisine is your top priority when you are on holiday, then this tour is how you should spend your time. Let yourself loose in Barcelona's best tapas restaurants as you authentically experience Spain's varied and traditional cuisine. 

Tapas refer to a variety of appetisers or snacks. Served cold or warm, tapas have evolved into an elaborate gastronomic event, with most regions in Spain showcasing the best of local ingredients with their own unique flavours and styles of cuisine – anything from exotically flavoured, spicy Moorish stews of the south, to fresh grilled seafood from the coastal areas of Spain. 
No trip to Spain would be authentic without days filled with tapas samplings. We recommend you arrive on this tour hungry! 


In case you have any dietary requirements please contact our team to adapt the tour to your needs.Tour duration
3 hours
Type of tour
Walking tour: no transportation is included
Tickets included
- English Speaking guide
- Sample at least 5 dishes and 1 drink
Other inclusions
- Gratuities optional
- Extra food & drinks not included
- Hotel pick up/drop off are not included
- Tickets to attractions are not included
Suitable for
Family, Foodies, Friends
Attractions along this route:
Gothic Quarter
Barcelona's oldest and most atmospheric district.
La Rambla
A bustling tree-line promenade through the heart of Barcelona.
Columbus Monument
This cast-iron column celebrates Christopher Columbus, the conquistador that discovered America.
Plaza Reial
This elegant square is a must-see in the Gothic quarter.
El Born
A trendy neighbourhood with interesting bars, restaurants and stylish boutiques.