Private Tapas Tour: A Taste of Barcelona
Instant Confirmation
Private Tour
2.5 hr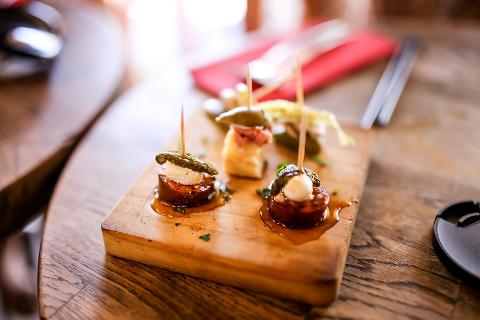 Tempt your palate with the legendary tapas from Andalusia, The Basque Region, Galicia and others.
Itinerary Details
If you are passionate about food and if sampling the best of local cuisine is your top priority when you are on vacation, then this tour is how you should spend your time. Let yourself loose in Barcelona's best tapas restaurants as you authentically experience Spain's most love and varied cuisine. 


Visit a carefully selected variety of Barcelona's top tapas restaurants
Savour an assortment of Spain's finest dishes, delicacies and flavours. 
Eat where the locals eat and drink, while experiencing authentic Spanish cuisine. 
Learn about Catalonian tradition and history of the diverse food from each region. 
Tapas refer to a variety of appetisers or snacks. Served cold (for example olives and cheese) or warm (for example battered, baby squid), tapas have evolved into an elaborate gastronomic event, with most regions in Spain showcasing the best of local ingredients with their own unique flavours and styles of cuisine – anything from exotically flavoured, spicy Moorish stews of the south, to fresh grilled seafood from the coastal areas of Spain. No trip to Spain would be authentic without days filled with tapas samplings. 
Tour duration
2.5 hours 30 minutes
Type of tour
Walking tour – no transport costs are included. Your guide will help you get around on the day.
Tickets included
No tickets required for this tour
Other inclusions
Sample at least 5 dishes and 1 drink
Gratuities optional
Customisable - simply ask us
Suitable for
Family, Foodies, Friends
Attractions along this route:
Tapas
Fast food - the Spanish way.
Tortilla
Tortilla Española is a traditional tapa dish - a definite must when in Spain.
Albondigas
A meat ball dish known as "Mexican Soul Food", it originated in Spain and was taken to Mexico by the conquistadors.
Calamari
Calamari is deep fried squid covered in batter, a popular dish in Spain and elsewhere in the Mediterranean.
Catalonian Bohigas Blanc
A dry fresh white wine, which is fermented from the Xarel-lo grape, also used for Cava.