Private Walking Tour of Modern Manhattan
Instant Confirmation
Private Tour
3 hr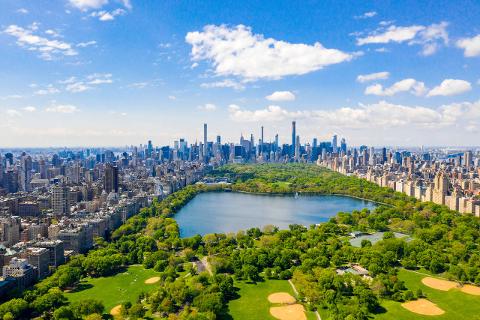 Discover Manhattan's top attractions whilst taking in its charm, in this walking tour of NYC.
Itinerary Details
Experience the bustle of Manhattan in this extensive trip around some of  New York City's finest sights. Journey beyond sightseeing and discover their secrets in the company of your own professional, local guide.   


See some of New York's best architectural masterpieces
Enjoy the bustle of Times Square
Learn about what makes Broadway so special in the theatre world
Walk through the art deco Rockefeller Center
Step inside the beautiful St Patrick's Cathedral
Become absorbed in New York's famous Fifth Avenue
Monuments of New York


In this intimate tour of NYC, you will discover some of midtown Manhattan's best known and much loved attractions. You will begin at the most iconic transportation hub in the United States— Grand Central Terminal. Catch a perfect view of the gleaming spire of the Chrysler Building, another of New York's Art Deco masterpieces, explore the New York Public Library where you will meet the giant stone lions, and enjoy Bryant Park—a lovely green oasis in the heart of Midtown. You will then continue west to the crossroads of the world —Times Square— to view the news ticker on the One Times Square Building, the NASDAQ board, and the myriad neon signs.

Bright Lights and Old School Glamour

Soaking up the bright lights, you will learn about the evolution of Broadway and how theatre  transformed Times Square into one of the most famous destinations in the world. You will have the pleasure of seeing many of the historic buildings in the area dating back to 1900, as you head towards the recently restored art deco masterpiece— Radio City Music Hall. A short walk will lead you to the Rockefeller Center, a magnificent complex of towering skyscrapers. 

As your tour continues, you will see the beautiful, gothic St Patrick's Cathedral, seat of the Archdiocese of New York. Heading north toward Central Park, you will have your chance to be part of the shopping mecca that is Fifth Avenue, abounding in old world glamour. Your tour will finish at the corner of Central Park, near the Zoo and Wollman Rink, where you will be able to explore this green oasis in the very heart of New York City. 
Tour duration
3 hours
Type of tour
Walking tour – no transport costs are included. Your guide will help you get around on the day.
Tickets included
No tickets are required for this tour
Other inclusions
Gratuities optional
Customisable - simply ask us
Suitable for
Couples, Culture Vulture, Family, Friends
Attractions along this route:
Empire State Building
The building that defined an epoch, it stood as the world's tallest for over 40 years.
Fifth Avenue
The world's most prestigious (and expensive) shopping street.
Times Square
Neon-lit and monumentally busy, this most famous of intersections is a mecca for tourists, shoppers and protesters.
New York City Public Library
This magnificent building holds a collection of over 50 million volumes.
Bryant Park
A green oasis amongst skyscrapers and the hubbub of city life, popular with city workers taking a break.
Grand Central Station
One of the USA's most famous landmarks, this historic transport hub made New York what it is today.
Chrysler Building
A stunning Art Deco pinnacle, the Chrysler was the world's tallest building when it opened in 1930.
St Patrick's Cathedral
This imposing Neo-Gothic construction has been the beacon of Catholicism in New York since 1878.
Rockefeller Center
An iconic complex of Art Deco buildings and public art, commissioned by the Rockefeller family.
Radio City Music Hall
A beloved entertainment venue that has earned the moniker of 'Showplace of the Nation.'
Broadway
There's a show for everyone in the world's premier theatre district.
Central Park
A green swathe through Manhattan, Central Park is a marvel of urban planning and one of the most filmed locations in the world.