The Best of Dallas: Private Half-Day Tour including Reunion Tower
Instant Confirmation
Private Tour
2.5 hr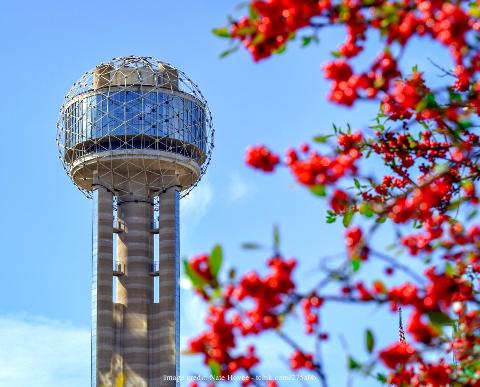 Explore the most popular highlights of Dallas on this half-day walking tour including tickets to the Reunion Tower Observation Deck for 360° views of this vibrant city skyline.
Itinerary Details
Operated by: Travel Curious
Discover the best of Dallas on a fascinating and immersive private tour of this thriving, vibrant cosmopolitan metropolis that began as a humble farming outpost in 1840 to become a modern hub of trade, banking, food, culture, art and sport. 

On your private half-day tour you will: 


Step inside the unique Thanks-Giving Square with its glorious fountains and a non-denominational chapel dedicated to this uniquely American holiday - a sunken oasis in the heart of the city; 
See the vast 30-foot-high Giant Eyeball made of fibreglass and eerily realistic;
Enjoy the vibrant atmosphere of Main Street in the heart of the historic district of downtown Dallas, lined with chic hotels, boutiques, trendy bars, and upmarket restaurants;
Pass by the J. Erik Jonsson Central Library and Dallas County Courthouse;
Explore the John F. Kennedy Memorial Plaza, dedicated to JFK who was tragically killed in Dallas;
See the John Neely Bryan Cabin: erected in 1841 by Dallas founder the farmer and lawyer from Tennessee John Neely Bryan;
Enter Dealey Plaza - infamous as the place where America's 35th president was assassinated; 
Walk onto The Grassy Knoll: the exact spot where John F. Kennedy was fatally shot in 1963;
See The Sixth Floor Museum from the outside - a brilliant museum dedicated to JFK's life, and what happened on that fateful day;
Your tour ends at the entrance to Reunion Tower, where your guide will help you enter the observation deck with your tickets and leave you to enjoy the views at your own leisure.

Dallas was founded in 1840 by the presbyterian farmer and lawyer John Neely Bryan, as a humble farming outpost. Today it remains at the heart of Texas ranching history. Dallas has since grown to become a banking and industry hub -  which it continues to be to this day - a thriving multicultural city famous for its sport, culture and Tex-Mex food! 
On your private walking tour, your guide will give you the rich history of the city - the stories of Native American displacement, of ranchers and settlers, of its transformation from cattle ranching to the cosmopolitan city it is today - with a stunning skyline of skyscrapers, a city of affluence, with upmarket shops, hotels and eateries everywhere. 

Dallas became world famous for the infamous events of 22 November 1963 when President John F. Kennedy was shot in Dealey Plaza. You'll walk through the Plaza and stand in the exact place it happened on the Grassy Knoll. 

Your fascinating and immersive tour ends with tickets to the amazing observation deck at the top of the Reunion Tower - with a panoramic view over the city. 
Tour duration
2.5 hours 30 minutes
Type of tour
Walking tour: no transportation is included
Tickets included
- English Speaking Guide
- Tickets to the Reunion Tower Observation Deck
Other inclusions
- Gratuities optional
- Food and drink are not included
- Hotel pick-up and drop-off are not included
Suitable for
Family Friendly, Intellectually Curious
Attractions along this route:
Dealey Plaza
Though it's the gateway to the historic district, its' name is most associated with the place where JFK was assassinated in 1963.
Kennedy Memorial
Designed by Kennedy family friend, the memorial in Dallas was designed as an empty tomb, with the only inscribed words on it: John Fitzgerald Kennedy.
Giant Eyeball
A 30-foot tall sculpture that became one of the city's most distinctive landmarks in Downtown Dallas.
The Chapel of Thanksgiving
Located in Thanks-Giving Square, the Church has a twisting white spire design that points towards the heavens.
Reunion Tower
An iconic city landmark which offers the best panoramic views of the Dallas skyline!