Visit Chicago on a Private Walking Tour with 360 Observation Deck Tickets
Instant Confirmation
Private Tour
3 hr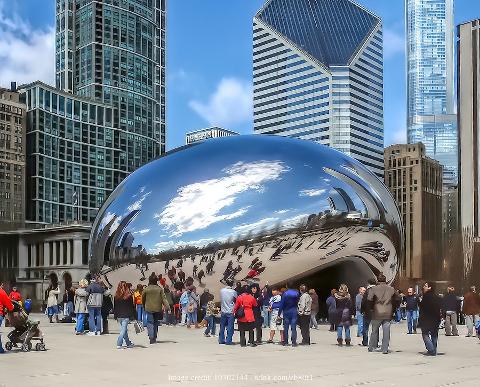 Enjoy a privately guided walking tour of Chicago's highlights, including tickets to the 360 Observation Deck on the 94th floor of Hancock Tower.
Itinerary Details
Operated by: Travel Curious
Located in America's Midwest along the Great Lakes shoreline, Chicago - known colloquially as the Windy City - occupies America's third-largest metropolitan area: a huge, vibrant expanse packed with incredible history and architecture and fine public art. Discover the compelling character of America's third-largest city, renowned for its jazz-and-blues heritage, striking architecture, historic streets and a fine array of public art. On your private half-day tour, you will: 


Explore the leafy trails and green space of tree-lined Millennium Park.
See 'The Bean' and other sculptures synonymous with Chicago.
Marvel at the bright lights, and waterfront views along Lake Michigan.
Discover how Lake Michigan has helped shape the city.
Admire the upscale shopping and luxury boutiques of the prestigious Magnificent Mile.
Enjoy a bite of some of Chicago's tastiest treats – your guide will be ready to show you the best! 
Marvel at views of Chicago's skyline from atop the Hancock Tower Observation Deck.
When it was founded in 1837, Chicago's early buildings were clustered around the mouth of the Chicago River. On your Private Chicago Half Day Highlights tour, explore the city famed for its bold architecture, past and present, incredible museums, and innovations in a wide variety of fields, from natural history and building to food and science. 

On your Private Chicago Half Day Highlights tour, visit all the city's major sites, including favourites such as the Magnificent Mile, Millennium Park and Hancock Tower. Your guide is a local who has plenty of tales about Chicago life together with an in-depth knowledge of its character. 

As you journey down the Magnificent Mile, you will learn how Chicago has earned each of its nicknames, including the City of Broad Shoulders, the Second City, and of course, the Windy City.  Lastly, your guide will escort you to the Hancock Tower to bid on your adieus. 

You will then travel to the top of the Hancock Tower's Observation Deck, where you can enjoy the 360-degree views of the entire city at your own leisure. 
Tour duration
3 hours
Type of tour
Walking tour – no transport costs are included. Your guide will help you get around on the day.
Tickets included
Entry to the Hancock Tower Observation Deck 
Sample of Chicago style food


Other inclusions
Additional food, drink, and gratuities are not included
Suitable for
Culture Vulture, Family, Friends, Layover Tours
Attractions along this route:
Navy Pier
In its century of history, Navy Pier has served many functions - from being a training and trading center for the military, and a prison for draft dodgers to its current iteration as a gathering place for family fun.
The Magnificent Mile
Michigan Avenue, commonly called the Magnificent Mile, is the heart of Chicago's commercial district and brings shoppers from around the world.
Millennium Park
Well-known for 'The Bean', Millennium Park is a gathering place for Chicagoans - especially on warm summer nights, when live music and sport overtake the green spaces.
Chicago-style deep dish pizza
No trip to Chicago is complete without trying their world-famous deep-dish pizza. Decide for yourself if you prefer the oozy, saucy Chicago-style, or the NYC thin slice.
Hancock Tower Observation Deck
Visiting 94 floors above the city is a great way to get a bird's eye view of the windy city.
Cloud Gate
Also known as "the Bean" and one of the main attractions in Chicago, this shiny exterior reflects the people moving around the Millenium park, the lights of Michigan Ave., and the surrounding skyline.