Edinburgh's Haunted History: Private Half-Day Walking Tour
Instant Confirmation
Private Tour
2.5 hr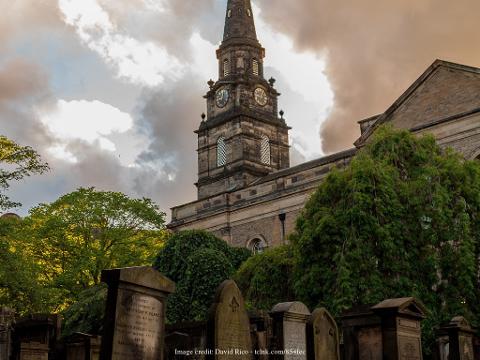 Explore the ghost stories of Edinburgh, famous for its imposing gothic architecture with tales of hauntings, witchcraft, local legends, and historic scenes of torture, butchery, and bloodshed!
Itinerary Details
Operated by: Travel Curious
Explore the haunted history of Edinburgh on this fascinating tour of Scotland's capital city's dark side, famous for its imposing and rather spooky Gothic architecture, local legends, and ghostly sightings. 

On your private tour, you will:


Enjoy the atmospheric and dramatic storytelling of your expert guide;
Explore the haunted nooks and crannies, monuments, streets and cemeteries of Edinburgh;
Start your ghost tour at the Witchery on Castle Hill; 
Explore Edinburgh's historic Old Town - rife with stories of battles and bloodshed;
Learn of the hundreds of men and women who were burned at stake on Castle Hill for witchcraft over 200 years;
Stroll down the Royal Mile, deceptively innocent, it is rife with tales of tortured prisoners in the vaults beneath the streets, and ghostly sitings;
Walk through dark courtyards and mysterious alleyways, hearing chilling tales of executions, murder, torture, ghosts, and witchcraft in Edinburgh through the 16th and 17th centuries; 
Arrive at North Bridge, with a view to the majestic-looking hotel and former HQ of the Scotsman with many ghost stories;
Discover the picturesque Calton Hill, whose beautiful templed, romantic views and gothic cemetery disguise some chilling tales, from witch burnings to the mausoleum of David Hume; 
Explore the eerie Kirkyard Cemetery at Canongate, dating back to the 17th century;
Return to the Royal Mile and end outside Edinburgh's imposing castle, a fortress steeped in ghostly tales. 

Meet your passionate guide in the heart of Edinburgh's Old Town, outside the Witchery - an atmospheric restaurant named for the hundreds of people who were burned at the stake over a period of 200 years during the 1500s and 1600s.

Begin your tour walking down Castle Hill, above the haunted vaults of the city. Back in the 11th century when King Malcolm III first built the castle, conditions in these prisoners' vaults were dark and hellish... today the streets are rife with tales of ghostly hauntings, sitings, and the wailing of torture victims, long since dead... 

Living conditions in the rest of the city could also be dirty and filthy; crime was rife and punishments were swift, harsh, and violent, with many a thief ending his life at the gallows on the Grassmarket. Sometimes you can hear the creaking rope in the wind... 


Your fascinating Edinburgh ghost tour is an immersive, eerie experience that delves into the city's most haunted nooks and crannies.  Hear tales of terror, explore local legends, and discover the historic scenes of butchery and bloodshed. Your private guide will lead you on a slow-paced stroll through Edinburgh's ancient streets and hidden passages in the Old Town. 

You'll visit the picturesque Calton Hill, and discover the gory tales hidden beneath its peaceful facade, like the witch burnings and the restless ghosts that seek revenge. Visit the eerie cemetery that houses the mausoleum of philosopher David Hume - rumoured to have made a pact with the devil. 

And walk through the 17th-century Canongate kirkyard, where over 30 phantoms are said to reside.
Hear how the city of Edinburgh inspired Robert Louis Stevenson to write his Gothic novel Dr Jekyll and Mr Hyde. 

End back on the Royal Mile and the fortress-like Castle, whose own history is steeped in the history of bloody battles and betrayals! 


Please note: as this is a private tour, your guide will be able to make each story as eerie or as kid-friendly as you request to have the best experience for everyone.
Tour duration
2.5 hours 30 minutes
Type of tour
Walking tour: no transportation is included
Tickets included
- English Speaking Guide


Other inclusions
- Gratuities optional
- Food and drink are not included
- Hotel pick-up and drop-off are not included
Suitable for
Culture Vulture, Family, Friends, History Buffs
Attractions along this route:
The Royal Mile
The picturesque historic thoroughfare of the Old Town of Edinburgh.
Edinburgh Castle
For nearly 1000 years Edinburgh Castle has shaped Scottish history as both a royal residence and a military stronghold.
Calton Hill
Crammed with monuments, Calton Hill is part of Edinburgh's UNESCO World Heritage Site and offers splendid views over the city.
Greyfriars Kirkyard
For over five centuries, Greyfriars Kirkyard has been home to hauntings and wizards. Look out for McGonagall or something more spine-chilling, like one Tom Riddle.
Grassmarket
Situated below Edinburgh Castle, the Grassmarket area was not only used for trading throughout the centuries but also for public executions.