Two Smithsonian Museums of American & Natural History: A Private Tour
Instant Confirmation
Private Tour
3 hr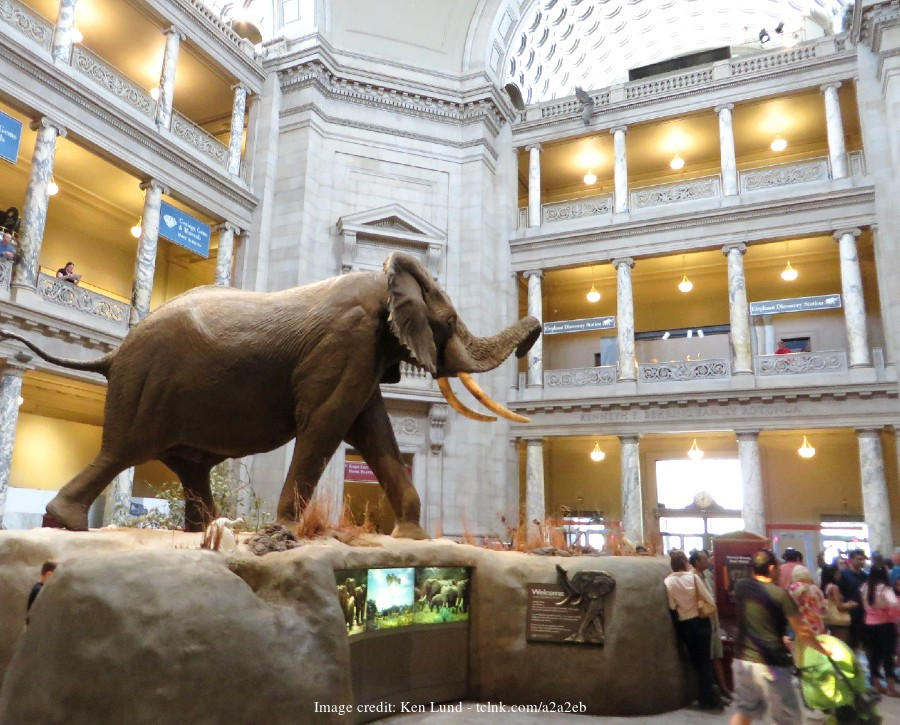 Explore two of Washington DC's most famed Smithsonian Museums: the National Museum of American History and the Museum of Natural History
Itinerary Details
Visit two of the famed Smithsonian Museums on the National Mall in Washington DC, the fascinating National Museum of American History, and the Museum of Natural History, one of the greatest collections in the world. On your private tour, you will: 


Enjoy the personal attention of your private guide.
Begin with a private tour of the National Museum of American History, where your guide will start with an overview of American history, before exploring the exhibitions in more depth.
See several artefacts underpinning the American political and cultural landscape.
Explore exhibitions that focus on America's triumphs, tragedies, wars, and protests. 
Learn about American women's history, African American history, Latino American history, and any area you have particular interests in. 
Enjoy a snack and restroom break before heading to your next destination, the Museum of Natural History, one of the world's largest collections from the natural world.
Explore the museum's highlights, including the Hope Diamond donated by Harry Winston, a T-Rex fossil, and a short film depicting the history of mammals over 200 million years. 
Immerse yourself in earth's many ecosystems, including the Sant Ocean Hall, where you can see some of the smallest and largest animals in the oceans. 

Explore two of America's most iconic Smithsonian museums in three hours. You will begin your private tour at the National Museum of American History, where myriad American treasures are on display. From a flag flying during the Battle of Baltimore to photographs taken of Titanic survivors aboard the Carpathia, iconic America is yours to grab hold of - or at least see for yourself. Interested in a richer, more nuanced story of the country? Your guide will be able to take you through the museum focusing on segregation, immunisation and medical advancement, or breakthroughs made by women in math, science, photography, and textiles. 

Next, your guide will take you into the National Museum of Natural History, which opened in 1910 and is home to one of the largest global teams studying the natural and cultural history of our beautiful planet. Along with their world-class research facilities, the museum houses a mix of permanent and temporary exhibits, which explore the history of the natural world – from dinosaurs and mammals to volcanic rock, meteors, and rare gemstones.  Your guide will take you through the museum's must-see spots, but be sure to let them know if any of the exhibits are of particular interest, as they'll be happy to tailor the tour to suit your curiosity.

Your tour ends inside the Museum of Natural History, where you will be able to continue exploring at your leisure. 

Please note: The Smithsonian museums often change operating hours. If for any reason one of the museums described is not available and your tour is altered, we will notify you in advance.
Tour duration
3 hours
Type of tour
Walking tour – no transport costs are included. Your guide will help you get around on the day.
Tickets included
No tickets are required.
Other inclusions
Gratuities, food,  and drinks are not included
Suitable for
Couples, Culture Vulture, Family Friendly, Friends
Attractions along this route:
Smithsonian National Museum of American History
A powerful and fascinating institution, this collection of more than 3 million artefacts captures American history and culture.
Star-Spangled Banner, 1814
Let yourself be astounded by the 200 year old flag from the Battle of Baltimore, where Francis Scott Key penned "O say does that Star-Spangled Banner yet wave."
Women's Suffrage
Beyond gaining the right to vote, explore the advancements women have made in math, science, and art.
Smithsonian Museum of Natural History
Housing a mix of spectacular permanent and temporary exhibits, the museum takes you deep into the history of space and time to explore our natural world.
Fossil Hall at the Natural History Museum
Step into a history of time on earth, and see nearly 700 fossils from the T-Rex to the woolly mammoth.
Hall of Geology, Gems and Minerals
Learn about the minerals, rocks, and gems that make up our natural world, while also seeing some of the world's largest gems - including the Hope Diamond.