Grand Canyon National Park Small Group Tour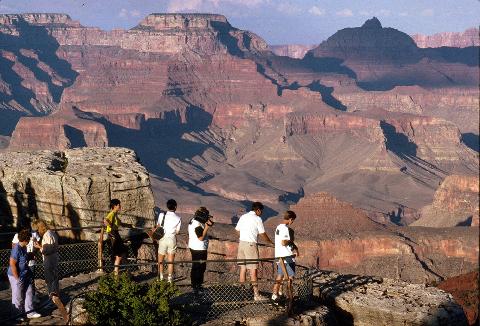 VIP small group luxury tour Hotel pick-ups between 6 am & 7 am On board complimentary morning snack Free bottled water 1 hour stop at the Grand Canyon Caverns Includes deli sandwich Tour duration approximately 15 hours
Itinerary Details
Operated by: Tour Orders
To start the morning, we provide you a delicious snack for breakfast to enjoy along the way. Then you will enjoy the landscape as you drive through the amazing Mojave Desert. Along the journey, you will travel on Route 66, the Main Street of America! 
Your first destination for the day is about halfway to the canyon just off of Route 66 at the Grand Canyon Caverns. This natural attraction has been drawing visitors for nearly 100 years. While here, you will get the chance to get your fresh deli lunch, relax, or if you are feeling adventurous, take an optional 40-minute caverns tour. This tour will lead you 210 feet below ground with a guide to share with you the features and history of this incredible caverns system. After this stop, you will get back on the road to make your way to the canyon.
Stops at Grand Canyon National Park include Mather Point and Bright Angel Lodge. Our Luxury Mercedes Sprinter will take you to each point, or if you prefer,  you can walk along the paved road between the two points and enjoy the absolutely breathtaking views.
After visiting both points, we will begin the trip back to Las Vegas. Along the route, we will also make an additional dinner stop at a local Arizona family diner where you can choose an option from their delicious dinner menu. For one last amazing memory, keep your eyes open and enjoy the breathtaking views of the Hoover Dam as we drive over the Mike O'Callaghan-Pat Tillman Memorial Bridge and then see the Las Vegas Valley skyline illuminated at night as we descend into the valley.

A true VIP experience! Friendly safe tour guides/drivers. Our Luxury Mercedes-Benz Sprinters are all late model vehicles with adjustable, comfortable seating, air conditioning and panoramic windows for your traveling comfort. 
Hotel pickups are scheduled between 6 AM and 7 AM. The assigned pick up time will be sent to you by email before 6:30 PM the night before your scheduled tour. If you do not have access to your email, please call our office between 5 PM and 7 PM the night before your trip. The average hotel arrival time is around 9:30 p.m.
If you have to choose just one excursion from Las Vegas, here it is!