The Best of Antonio Gaudí in Barcelona: Private Full-Day Tour
Instant Confirmation
Private Tour
5 hr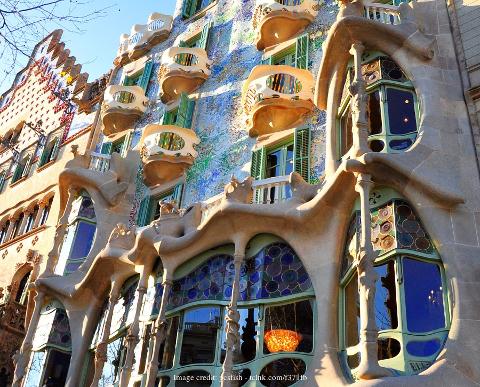 Discover the work of one of the most important architects of Catalan Modernism, Antoni Gaudí, and explore his best buildings, including Sagrada Familia, Casa Batlló and Park Güell.
Itinerary Details
Operated by: Travel Curious
Explore the best of Barcelona on a private tour of Gaudi's imprint on the city, with tickets to La Sagrada Familia, Casa Batlló, and Park Güell. 

On this walking and driving combined private tour, you will:


Learn all about Gaudi's work on a private guided tour inside Casa Battló;
Travel along Passeig de Gracia in a private vehicle to Park Güell, with breathtaking views of the city;
Stop briefly to see two architectural marvels of Gaudi's work: Casa Vicens (his first house) and Casa Milá;
Walk together with your guide along Park Güell and admire the ceramic animal sculptures and architectural designs that make it so iconic;
Take a short comfort break before returning to the vehicle for a private hassle-free transfer to the Sagrada Familia;
Enjoy a one-hour guided tour of La Sagrada Familia, the largest unfinished Catholic church in the world.
A trip to Barcelona would be incomplete without exploring Gaudí's imprint on the city. Not only was he one of the most influential architects of Barcelona's modern and art nouveau period in the late 19th and early 20th century, but in history. 

His architectural masterpieces helped transform the city of Barcelona into the thriving, bustling, the historical and cultural metropolitan city it is today.

In Dreta de l'Eixample and view the world-renowned Casa Batlló, Casa Milá, and Casa Vicens Gaudí. You will get a sense of Gaudí's innovative and eccentric mind as you walk into the various edifices designed by him, from the cathedral spires at La Sagrada Familia to the gingerbread gatehouses, grottos and ceramic animals in Park Güell. 

Enjoy two hassle-free private transfers to Park Güell and Sagrada Familia and admire the city from the comfort of your car. Your tour ends with a guided tour inside the Sagrada Familia where you will then be free to stay at your own leisure.

Join us on the tour and you will be transformed into another world as you enter the intricately designed spaces
Tour duration
5 hours
Type of tour
Walking tour: including two private transfers between sights
Tickets included
- English Speaking Guide
- Entrance Tickets for Casa Batlló, Park Güell and Sagrada Familia
Other inclusions
- Gratuities optional.
- Additional tickets are not included.
- Food and drink are not included.
- Hotel pick-up and drop-off are not included.
Suitable for
Arty Farty, Couples, Culture Vulture, Family
Attractions along this route:
Sagrada Familia
Gaudí's towering architectural achievement, and the most iconic building in Barcelona.
Park Güell
Barcelona's stunning public park, filled with the fantastical forms of Gaudí.
Casa Milà
This magnificent house with its undulating façade was Gaudí's last civil project.
Casa Batlló
Yet another Gaudí treasure, Casa Batlló is a masterpiece of colour and light.
Casa Vicens Gaudí
Considered one of the first buildings of Art Nouveau, this is the first house designed by Gaudí.