The Genius of Gaudi Private Tour inc Tickets: Sagrada Familia, Park Güell, and Casa Vicens Gaudí
Instant Confirmation
Private Tour
5 hr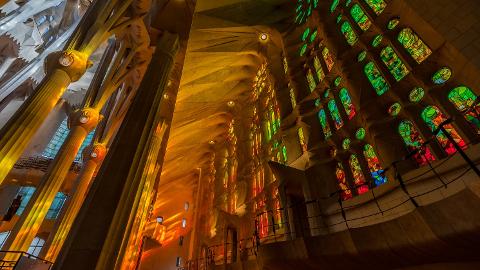 Marvel at the most acclaimed creations of the Spanish architect Gaudi, with skip the line tickets to attractions.
Itinerary Details
A trip to Barcelona would be incomplete without exploring Gaudí's imprint on the city. Not only was he one of the most influential architects of Barcelona's modern and art nouveau period in the late 19th and early 20th century, but in history. His architectural masterpieces helped transform the city of Barcelona to the thriving, bustling, historical, and cultural metropolitan city it is today.

On this tour, you will get a sense of Gaudí's innovative and eccentric mind as you walk into the various edifices designed by Gaudí. You will be transformed into another world as you enter the eccentrically designed spaces. 


Explore La Sagrada Familia. Icon of Barcelona and UNESCO marvel.
Venture to Park Güell - a beautiful hill-top park overlooking the City.
Travel to the prestigious neighbourhood of Dreta de l'Eixample. 
Conclude at the recently opened Casa Vicens Gaudí
Marvel at the Cathedral spires and ceiling of La Sagrada Familia, descend into its crypt and visit the small museum dedicated to its construction. Next, unwind in the beautiful gardens of Park Güell. See the gingerbread gatehouses, grottos, ceramic animals, and Gaudi's former home. Enjoy incredible, sweeping vistas across the city and stop for a quick bite in the cafe, if peckish. Next, a journey to Dreta de l'Eixample and view the world-renowned Casa Batllo and Casa Milá apartment buildings. Conclude your experience at the recently opened Casa Vicens Gaudí. This is a day not to be missed in this wonderful city!


Please note: Your clothing must be appropriate to enter the Sagrada Familia. Whilst they are less strict on knees not being covered - the length of your shorts or skirts must be appropriate. Your shoulders must be covered, you cannot wear see-through clothing, nor have an exposed back or belly (no swimwear). 
Tour duration
5 hours
Type of tour
Walking tour – no transport costs are included. Your guide will help you get around on the day.
Tickets included
Skip-the-line entrance to la Sagrada Familia, Park Güell and Casa Vicens Gaudí.
Other inclusions
Gratuities optional
Customisable - simply ask us
Suitable for
Arty Farty, Couples, Family
Attractions along this route:
Sagrada Familia
Gaudí's towering architectural achievement, and the most iconic building in Barcelona.
Park Güell
Barcelona's stunning public park, filled with the fantastical forms of Gaudí.
Casa Milà
This magnificent house with its undulating façade was Gaudí's last civil project.
Casa Batlló
Yet another Gaudí treasure, Casa Batlló is a masterpiece of colour and light.
Casa Vicens Gaudí
Considered one of the first buildings of Art Nouveau, this is the first house designed by Gaudí.