Private Walking Tour of Madrid with a Local including entrance tickets
Instant Confirmation
Private Tour
3 hr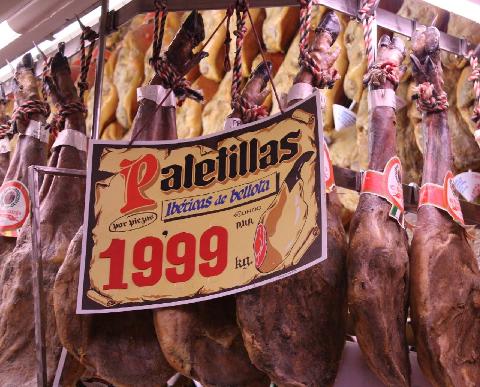 Discover the overlooked aspects of Madrid's past and present while stopping for traditional jamón along the way.
Itinerary Details
Uncover some of Madrid's less-visited treasures on this local tour, from Baroque churches and Romanticist museums to the now trendy Malasaña neighbourhood and tasting the most unique jamón (ham) the city has to offer.
Marvel at Iglesia San Antonio de los Alemanes's (Church of St Anthony of the Germans') intricate frescos
Taste some of Madrid's top jamón (ham) at the famous Jamonería López Pascual (López Pascual's Ham Shop)
Stroll the hippy streets of the unique Malasaña neighbourhood
Discover 19th-century art treasures at the Romanticist Museum
 A metropolis of culture, art and nightlife, Madrid has earned its place as one of Europe's most vibrant capitals. Straying away from its main tourist draws, this short but sweet three-hour tour explores a hidden side to the city, taking in some of its more unusual neighbourhoods and landmarks.
From Baroque churches to famous jamón
Your expert local guide will kick off the tour at one of Madrid's lesser-known religious buildings, the Iglesia San Antonio de los Alemanes (Church of St James of the Germans). This Baroque wonder is a Roman Catholic church that dates back to the 1620s and was built by King Felipe III. Its hidden charm lies within its ellipsoidal, fresco-covered interior, which features elaborate works of art by Luca Giordano and Francisco Ricci.
Now it's time to sample one of Madrid's top culinary delights - Jamonería López Pascual. Founded in 1919, this legendary, family-run shop offers the city's best hams and has been handed down over three generations. The current owner, Alberto, loves to show off his 36-month, cave-­cured shoulder of black­-footed, Iberian pig from the mountains of Huelva. He may even pour you a glass of Manzanilla (sherry) while he describes the curing process to you, step by step.
Romanticism and Madrid's most bohemian neighbourhood
Walk off that ham with a stroll through the delightful Malasaña neighbourhood, which has become Madrid's bohemian heartland. The streets have an alternative vibe, decorated with street art and lined with vintage clothing shops, trendy cafés and hipster haunts. This student mecca is loved for its weekend market stalls and traditional tapas bars.
The tour finishes at the Romanticism Museum, housed in a former neo-classical palace. Here, you can explore 19th-century artworks and artefacts from famous names like Goya, Federico de Madrazo, and Leonardo Alenza. This is the perfect place to learn about the Romanticism movement.
Want to discover more than just Madrid's postcard attractions? This tour will give you a unique, local's view of Madrid and its hidden cultural wonders.
Tour duration
3 hours
Type of tour
Walking tour - the cost of all public transport is not included between sights. Your guide will help you with this.
Tickets included
Entrance tickets to St. Antony's Church, the Jamonería and Museo del Romanticismo.
Other inclusions
A tasting of one of the best hams in the city.
A friendly, professional tour guide for your own private group.
Suitable for
Culture Vulture, Family, Friends, History Buffs
Attractions along this route:
San Antonio de Los Alemanes
Beautiful 17th century Baroque gem with frescos by Luca Giordano.
The Romanticism Museum
This overlooked museum covers all elements of the Romantic movement in Madrid.
Malasaña Neighbourhood
A unique mix of alternative and vibrant people in an old, classic neighbourhood.
Teatro Lara
A performing arts theatre, located at Corredera Baja de San Pablo.
Jamon Serrano
Jamon serrano - Spanish ham - is a staple of many tapas and is a delicacy not to be missed.