Southbank and Borough Market Private Tour
Instant Confirmation
Private Tour
3 hr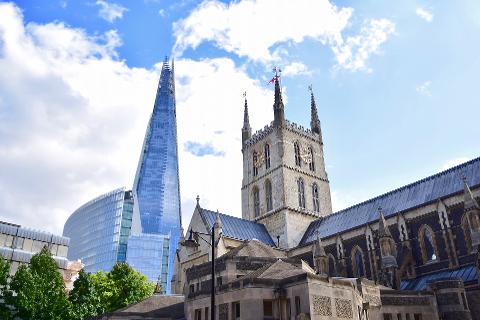 Beloved for its rich history, prized cultural sites and dazzling riverside prestige.
Itinerary Details
For centuries, London has stood at the centre of the world's commerce, adapting with the shifting tides of power and technology.  A former dockland and industrial slum, and now an icon of successful regeneration, London Bridge is one of London's most historic and storied districts. 
Start your tour beside the river on the beautiful Bankside footpath.
Enjoy incredible vistas of London's finest bridges, castles, and cathedrals.
Explore Southwark's treasure trove of galleries, historic buildings, and pubs.
Dive into London's oldest food market. Decide what you'd like to indulge in, and enjoy. 
Learn about the area's strong connection with Shakespeare and Dickens.
See old prison walls, pauper burial grounds, and London's last surviving coaching inn. 
Visit Borough Market - where you tour ends - and learn the history of the historic market before enjoying its many fares. 
We begin at London Bridge, where the small trading town built by the Romans stood upon the river Thames. Hear the stories of how the Thames helped Britain take command of the oceans - from Sir Francis Drake and his journey on the Golden Hind to the HMS Belfast, the most significant surviving Royal Navy warship from the Second World War. 

Move west along the river and into the time of Shakespeare, as you pass by one of the world's most famous theatres, known for the timeless words penned by arguably the greatest playwright of all time. 

A few blocks east and several centuries later, step into the world of Southwark, which was built on industrial, smoky origins. Grand Victorian wharves, granaries, and shipyards once spanned its shores, amassing the trade and treasures of Her Majesty's Empire. Now, the area has evolved into one of London's most adored and exciting districts. The neighbourhood has arguably the best vistas across the city, its finest walk, and London's most beloved food and produces market. 
Tour duration
3 hours
Type of tour
Walking tour – no transport costs are included. Your guide will help you get around on the day.
Tickets included
No tickets required for this tour
Other inclusions
Free concierge service if you need any advice
Gratuities optional
Customisable - simply ask us
Suitable for
Couples, Family, Friends, Seniors
Attractions along this route:
Tower Bridge
London's iconic bridge across the River Thames, with two beautiful Victorian towers.
HMS Belfast
An iconic battleship permanently moored on the Thames ,that once served in WW2.
Golden Hinde II
Sir Francis Drake's ship sit in SE1 reminding travelers of his tremendous feats. However, he is regarded in Spain as a criminal for raiding ships and ports throughout the Americas.
Shakespeare Globe
An academic replica of the Globe Theatre, an Elizabethan playhouse where Shakespeare once worked.
Borough Market
A beautiful wholesale fruit and vegetable market, one of the oldest in London.
The George Inn
Dating back to 1676 this is the only original galleried coaching inn left in London.
Marshalsea Prison
Charles Dickens father, John Dickens, was incarcerated here for debt in 1824
Crossbones Graveyard
An ancient, unconsecrated burial ground for prostitutes, outcasts and paupers.