London's East End: Historic Pubs & Rebels Private Walking Tour
Instant Confirmation
Private Tour
3 hr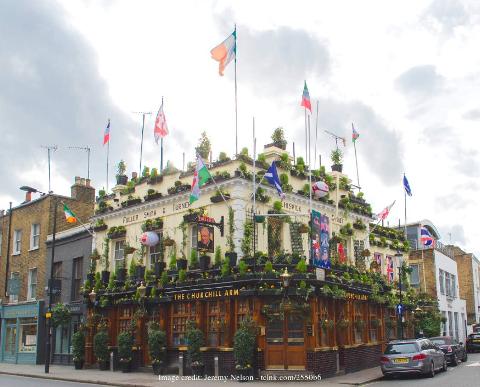 Explore London's vibrant East End, and visit some of the oldest taverns and historic pubs while you learn about its bloody history too!
Itinerary Details
Operated by: Travel Curious
Enjoy a pub tour of some of the oldest pubs and taverns in London's vibrant East End, see where Handel and Hogarth liked to drink, while also learning about the bloodcurdling history of Smithfield, and the fate of miscreants, drunks and political rebels. 

On your private pub tour you will: 


Enjoy a private walking pub tour through historic London with the personal attention of your private guide;
Walk through Smithfield Market, the famous old meat market of the East End, as you hear about its lengthy, gritty and fascinating history;
See where Sir William Wallace was killed, and learn of his courageous life fighting for Scottish Independence (you can debate the accuracies of the film with your guide!);
Enjoy a drink on us at two different traditional pubs - two pints or two glasses of wine are included on your tour;
Hear about the history of the buildings, some of which date back to the Middle Ages, like the Hand and Shears Pub;
Learn about the distillery process and take the chance to cultivate your own palate: will it be a stout, cider or a traditional British ale?;
Learn about the local area's gruesome history, where tales of drunkards and cadavers, doctors and anatomists, and unwary pub-goers overlap; 
Walk by St Bartholomew's Hospital (St. Bart's), the oldest in Europe, famous for its work on anatomy…and because of Charles Dickens, and as the place where the iconic fictional detective, Sherlock Holmes first meets Dr Watson; 
Wander into traditional pubs like The Viaduct Tavern and Ye Olde Cheshire Cheese (frequented by Dr Johnson) just off Fleet Street and enjoy their aged, relaxing ambience.
Looking to quench your thirst whilst taking in London's past? On this fantastic tour, you will have the pleasure of visiting some of the most historic drinking spots in the City of London. Enjoy some excellent locally-brewed craft beer whilst exploring the dark and chequered history of the Smithfield area. 

The central meat market for London, Smithfields has been in continuous operation for more than 800 years. Undoubtedly the most gruesome location in the capital, this ancient marketplace has long been a site of gory traditions: from the cattle that were slaughtered in its streets to the presence of countless heretic witches, public executions (of the likes of Sir William "Braveheart" Wallace) and the slaying of Wat Tyler during the Peasants' Revolt of 1381. 

Murder and mystery define the district, which is often referenced by London's literary legends – the nearby St Bartholomew Hospital, more commonly known as St. Barts, is where Sherlock Holmes first meets Dr Watson. Once described by Dickens in Oliver Twist as "the armpit of London, where animal excrement and entrails created a sea of filth", today Smithfield thankfully operates in beautiful ornate Victorian halls - no entrails in sight!

As you venture through these labyrinthine streets with your expert local guide, you will be going off the beaten track, journeying back in time as you explore some of Smithfield's most interesting pubs and breweries. 

One establishment you might venture into, The Hand and Shears, dates as far back as the Middle Ages – the Lord Mayor used to open the famed St. Bartholomew's fair from outside its doors. Another, the Viaduct Tavern, lies opposite the notorious old Newgate Prison.

Its cellars are rumoured to have once been cells, though you'd never guess as you sit comfortably inside this former 'Gin Palace', which boasts a beautiful Victorian interior of ornate wooden screens and engraved glass panels. 

As you make yourself at home in these traditional watering holes, your guide will regale you with tales of the city, whilst you sample a variety of authentic British ales, stouts and ciders.
Tour duration
3 hours
Type of tour
Walking tour: no transportation is included
Tickets included
No tickets included on this tour
Other inclusions
- English Speaking Guide
- Gratuities optional
- Food and  extra drink are not included
- Hotel pick-up and drop-off are not included
Suitable for
Couples, Culture Vulture, Friends, History Buffs
Attractions along this route:
Smithfields Market
The largest meat market in the UK today, Smithfields has been in use since Medieval times.
St Bartholomew's Hospital
St Bartholomew's, often known simply as Bart's, is the oldest hospital in all of Europe.
William Wallace Memorial
See the place where Scottish patriot and independence fighter, William Wallace, was executed in 1305.
Historic Pubs of London
Step into some historic and ancient pubs still in operation today. Now serving local ales and excellent locally-brewed craft beer.
Sherlock Holmes
See the location where Sherlock Holmes first met Dr. Watson in the famed books by Sir Arthur Conan Doyle.