Private Excursion to Silicon Valley
Instant Confirmation
Private Tour
8 hr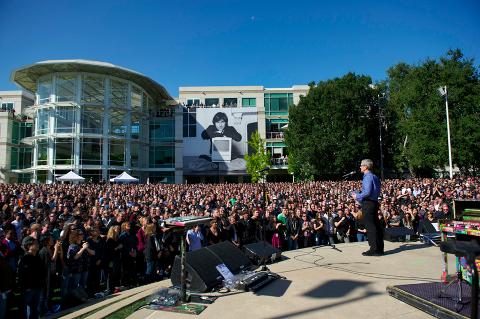 Visit the home of the tech giants - Google, Facebook, and Apple - and see Stanford University.
Itinerary Details
On your private excursion from San Francisco, see first-hand what makes Silicon Valley the world's most dynamic hub of global technology and entrepreneurialism. Learn how Silicon Valley was born and some of the world's most influential companies were founded. On your tour you will:


Enjoy a full day, including hotel pick up and drop off, in a luxury vehicle. 
Explore how this place became a capital of innovation, venture capital and progressive "techie" culture. 
Learn the stories of the founding of major players like Stanford University, Tesla, Apple, HP, Google and Facebook- and their predecessors.  
Drop into Apple HQ Visitor Center, Augmented Reality Experience, Flagship Store, Rooftop Deck and Espresso Café. 
Visit the expansive Googleplex Campus promenade and the comical Android Garden.
Stop for the iconic shot in Menlo Park at the Facebook HQ "thumbs up".   
Tour Stanford University campus.
Visit the Computer History Museum and enjoy lunch at the café (price of lunch not included).
Ever thought of trying your hand in big tech? This is the perfect chance to see what it's like to live, work and study here in the 21st Century. This tour is ideal for guests who want to hit the most well-known sites and come away with an understanding of what powers Silicon Valley. See how Google (and other tech company) employees live, and maybe even rub elbows with the next big founder over coffee! 

Please note:  Due to Covid-19 and the future of remote work for many companies, this tour itinerary is subject to change. We are monitoring the openings/closures of each of the campuses. Please be in touch before booking, so we may provide you the most up-to-date description of how this tour would run on your preferred tour date. 

Additionally, please note: While this tour is available for children, no car seat is provided and is the responsibility of the customer to provide where necessary. 
Tour duration
8 hours
Type of tour
Excursion with Driver tour - you will have your own luxury private vehicle accompanying you throughout the tour.
Tickets included
Entrance to the Computer History Museum
Other inclusions
All admissions, parking, and a coffee
Suitable for
Culture Vulture, Family, Friends, Intellectually Curious
Attractions along this route:
Silicon Valley
Home to the tech giants, aspiring startups, cash-rich venture capital companies, and some of the country's most expensive real estate, Silicon Valley is a world unto itself.
Googleplex
The headquarters to Alphabet Inc is awash with primary colors - but don't be fooled by its simplicity. Many of the world's best minds work right here.
Facebook HQ
Located at "1 Hacker Way", the facebook "thumbs up" has become the iconic place to snap a picture, indicating you've visited Menlo Park.
Stanford University
Largely considered one of the top 5 universities in the country, Stanford University is a feeder of alumni into the tech giants and start ups of Silicon Valley.
Computer History Museum
Though in name it's another museum - the institution and its academics play a large role in global discussions on the role of computing and its impact on humankind.
Apple HQ Visitor Center
Visit "1 Infinite Loop" - home of Apple's headquarters. See their Visitor's Center, the Augmented Reality Experience, their flagship store, and the rooftop deck.