Private Tour of the Colosseum and Roman Forum for Families
Instant Confirmation
Private Tour
2.5 hr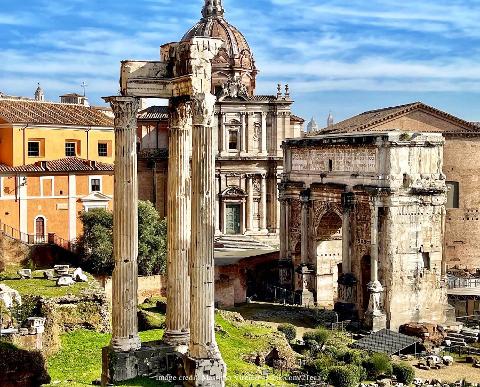 On this family-friendly tour of Ancient Rome, you will be taken through the Roman Forum and around the Colosseum.
Itinerary Details
On this family-friendly tour, you will time travel back 2,000 years and visit sites that were of significance to the Roman Empire and do as the Romans do. On your private tour you will:


Explore Ancient Rome with a child and family-friendly tour and guide!
Enjoy the personalised attention of a private, expert, tour guide.
Enjoy skip the line tickets to the Colosseum, where you will learn of its architectural secrets, and of the famed gladiator fights! 
Explore the Roman Forum, the downtown of Ancient Rome (tickets included).

First, your guide will take you to the ancient Colosseum, which is an enduring symbol of the power, prowess and bloodlust of the Roman Empire. Although damaged over the years by earthquakes, pollution and stone-robbers, it remains a truly spectacular structure. The building hasn't been used for entertainment since the early medieval era; in the following centuries, it was employed variously as a fortress, Christian shrine, and housing for a religious order. 

After your guide will take you through the Roman Forum where you will come across remnants of magnificent temples, law courts, palaces and marketplace, while your guide informs you of daily life in the heart of the Roman Empire. 

The tour will finish in the Roman Forum, where your guide will tell you how to explore Palatine Hill – a site not to be missed if your family is up to the climb to Palatine Hill – the birthplace of the Roman Senate, and where Rome's Emperors lived and ruled from. The word 'palace' is derived from the name of this hill, as so many Roman rulers built their lavish residences on the Palatine. Climb the hill today and you will find extensive ruins of the once splendid palaces and gardens of some of Rome's most famous emperors, including those of Augustus, Tiberius and the Flavian Palace, as well as the Temple to Apollo built by Augustus, and Domitian's impressive Hippodrome. 
Tour duration
2.5 hours 30 minutes
Type of tour
Walking tour – no transport costs are included. Your guide will help you get around on the day.
Tickets included
- Colosseum & Roman Forum tickets
Other inclusions
- Gratuities, food & drink are not included. 
Suitable for
Culture Vulture, Family, Friends, History Buffs
Attractions along this route:
Colosseum
The Roman Empire's largest amphitheatre, and one of the world's most awe-inspiring ancient monuments.
Roman Forum
The political, religious and civic heart of ancient Rome.
Arch of Titus
One of Rome's most iconic triumphal arches, and the model for the Parisian Arc de Triomphe.
Arch of Constantine
The largest and most magnificent of Rome's triumphal arches, with a curious history in its sculpture.
Temple of Caesar
Remains of the temple of Julius Caesar.
Curia Julia
The seat of the imperial Senate in the Roman Forum.