The Best of the Christmas Lights in London: Private Walking Tour
Instant Confirmation
Private Tour
3 hr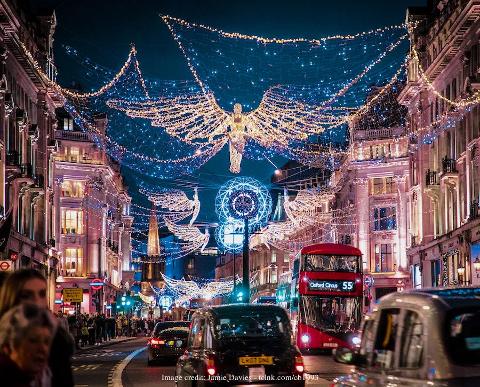 Enjoy the dazzling spectacle of the best of London's Christmas lights on a private walking tour via Trafalgar Sq, Soho, Carnaby St, Regent St, Oxford St and the magical Winter Wonderland.
Itinerary Details
Operated by: Travel Curious
Experience the magical time of the holiday season in London on a Christmas Lights private walking tour where your tour guide will take you to the best areas with dazzling lights and decorations. 

On your private tour, you will:


Explore Trafalgar Square and discover Norway's gift to the city of London;
Enjoy the Leicester Square Christmas Market, a great stop for hand-crafted goods and delicious food and drinks;
Walk the iconic Piccadilly Circus! (London's equivalent to Times Square);
Stroll down Regent Street – synonymous with London at Christmas, with its breathtakingly stunning display of Christmas lights and Hamleys Toy Shop;
Walk up the dazzling Carnaby Street – bursting with creativity and glittery lights, always a holiday spectacular!;
Marvel at the iconic lights of St. Christopher's Place, just around the corner from Oxford Street;
Find perfect unique gifts at Connaught Village;
Embrace the Christmas spirit in London's Hyde Park;
Finish your tour at the lively Winter Wonderland, where you can taste amazing street food, go ice skating, listen to live music, and more!.
There is no better place to get into the Christmas spirit than a lively tour of central London: Trafalgar Square, Piccadilly Circus, and Regent Street – have all become synonymous with the razzle-dazzle of Christmas in London with their dazzling lights, beautiful shop-front displays, and joyful bustle and banter of the Christmas markets. 

Your tour will start at Trafalgar Square to discover the gift that Oslo, the Norwegian capital city, gives to London every year for Christmas and hear the story that began this tradition.

You'll have a chance to enjoy the Leicester Square Christmas Market and stop for a delicious warming hot chocolate or mulled wine, and heading towards Soho, your next stop will be the famous Carnaby Street. 

Carnaby always displays amazing art installations and has a fabulous atmosphere, never more so than at Christmas when it really sparkles! You'll then walk down Regent Street, famous the world over for its truly spectacular, dazzling, glittering Christmas light displays, as well as Hamleys Toy Shop, with the iconic Piccadilly Circus at the end. 

You will end this magical tour in London's Hyde Park, home to the lively Winter Wonderland, where your guide will part ways with you so you have the opportunity to ice skate, listen to live music, enjoy different rides, or taste amazing street food at your leisure! 


PLEASE NOTE: This tour runs only from 18th November 2022 – 2nd January 2023Tour duration
3 hours
Type of tour
Walking tour: no transportation is included
Tickets included
- English Speaking Tour Guide
Other inclusions
- Gratuities optional
- Hotel pick-up and drop-off are not included
Suitable for
Couples, Culture Vulture, Family, Friends, History Buffs
Attractions along this route:
Trafalgar Square
A beautiful historic square in the heart of London and one of the city's top tourist attractions.
Piccadilly Circus
Piccadilly Circus is the most buzzing place in London, and it's no surprise it's known as the Times Square of London.
Carnaby Street
Historically known to be the birthplace of Swinging London in the 60's, the home to Mod's, rockers, punks and more, Carnaby Street is part of the epicentre of London's West End.
Leicester Square Christmas Market
Take a stroll through Leicester Square's Christmas Market, and have the chance to purchase all your seasonal goods.
Hyde Park London
The largest of the royal parks, it is home to Kensington Palace and sprawls over 350 acres.