Explore London in an Iconic Black Cab: Private Full-Day Driving Tour
Instant Confirmation
Private Tour
6 hr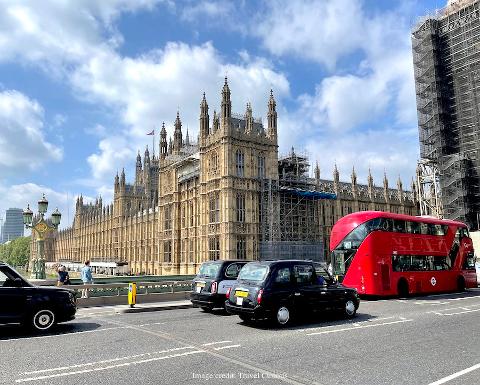 Discover London's most famous attractions, including 4 UNESCO World Heritage sites, on a private full-day driving tour through the streets of this amazing city in an iconic Black Cab.
Itinerary Details
Operated by: Travel Curious
Experience all that London has to offer in a day on this whistle-stop driving and walking tour of the most famous landmarks and sites that London is world-famous for, and see more of London in a day than most visitors will see in a week! 

On your private full-day tour, you will: 


Travel in style in a private and iconic London Black Cab;
Enjoy the personalised attention of your private tour guide, who is also a licensed Black Cab driver;
Catch the awesome 'Changing the Guard' ceremony at Buckingham Palace if your reservation pick-up time is 10 am or earlier. 
See London's most famous attractions, including 4 UNESCO World Heritage Sites and 2 Tudor Palaces;
Snap photos at Buckingham Palace, Westminster Abbey, 10 Downing Street, Piccadilly Circus, Marble Arch, Kensington Palace, the London Eye, Shakespeare's Globe, Borough Market, the Tower of London, Tower Bridge, St Paul's Cathedral, the British Museum, and even... Abbey Road. 

London is a modern capital with an ancient past as for centuries it has occupied a central place in the rich fabric of British life and history. Your expert driver-guide will introduce you to one of the world's most multi-faceted and fascinating cities, home to the Queen, and aeons of Toyal history, not to mention Shakespeare's Globe and a thrumming West End theatre scene.  

On your private, full-day tour in a Classic Black Cab, you'll stop along the way for many photo opportunities and hear the histories of many of the most famous buildings of Britain's Capital city as well as take the opportunity to stroll and explore some of the Victorian alleys and markets such as Covent Garden in the West End and Leadenhall market in the East End (featured in Harry Potter movies). 

This comprehensive tour will include stops all over the city, including Westminster Abbey, St Paul's Cathedral, Kensington Palace, Tower of London, Tower Bridge,  and many more. 

At each place, you'll be able to capture your memories and share your amazing day on Instagram, before being dropped off at a location of your choice. 
Tour duration
6 hours
Type of tour
Driving tour: Private Black Cab throughout the tour
Tickets included
- English Speaking Guide
- Private Transportation throughout the tour
- Hotel pick-up and drop-off from central London hotels
Other inclusions
- Gratuities optional
- Food & drinks not included
Suitable for
Couples, Culture Vulture, Family Friendly, History Buffs
Attractions along this route:
Buckingham Palace
Buckingham Palace is the official London residence for HM Queen Elizabeth II and it's one of London's most popular attractions.
Big Ben
Renamed "Elizabeth Tower" for the Diamond Jubilee of Elizabeth II, the iconic Victorian clock tower of London, has become a symbol of the city itself.
Downing Street
The home of some of the most important members of the British Government, including the Prime Minister himself.
Tower of London
One of England's first Norman castles, as well as its most feared prison and the home of the Crown Jewels.
Trafalgar Square
A beautiful historic square in the heart of London and one of the city's top tourist attractions.
Piccadilly Circus
Piccadilly Circus is the most buzzing place in London, and it's no surprise it's known as the Times Square of London.
Tower Bridge
London's iconic bridge across the River Thames, with two beautiful Victorian towers.
London Bridge
One of the most important and historic landmarks in London, with a surprising history.
Westminster Abbey
One of London's oldest and most magnificent churches, with a long-standing connection to the royal family.
London Eye
The London Eye, or the Millennium Wheel, is a huge observation wheel on the banks of the River Thames, that offers spectacular views of the city.
St James's Palace
The official home of the sovereign of the United Kingdom, built in Tudor red brick.
St James's Park
A green oasis in royal London that is host to numerous ceremonies - and has a lake complete with pelicans.
Borough Market
Borough Market is a historic wholesale fruit and vegetable market and one of the oldest in London dating back to the 12th century.
St Paul's Cathedral
The seat of the Bishop of London and the mother church of the Diocese of London.
Mayfair, London
One of London's most lavish, exclusive neighbourhoods. Embassies, prime offices and boutiques occupy former mansions and aristocratic homes.
Leadenhall Market
Dating back to the 14th century, it was known to be a meat, poultry and game market. Now, walk through a number of boutiques, cafes and restaurants.