Private Guided Ghost Tour of San Juan at Night
Instant Confirmation
Private Tour
2.5 hr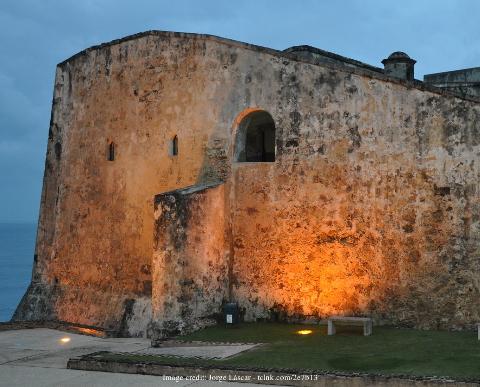 Escape the heat of the day and enjoy the city's highlights on a private tour of the city's ghosts and hauntings.
Itinerary Details
Operated by: Travel Curious
Dive into haunted stories of San Juan, when the sun has gone down and with it the heat. On your private ghost tour of San Juan you will: 
Enjoy a private walking tour with the comfort of an expert guide
Learn of the Columbus curse and hear endless tales of deaths, accidents, bankruptcies, and natural disasters all rumored to be linked to Columbus.
See the largest fort constructed by the Spanish in the Western Hemisphere and hear tales reminiscent of a Shakespearean tragedy.
 Walk through the old town by prisons and hotels to hear centuries of spectral sightings documented. 
 Hear history laced with ghost stories at El Morro.
While all sites are visited externally  your guide will recommend how you can visit the national site during its normal operating hours. 
Your tour begins in Columbus Square, where your expert private guide will introduce you to the city's tenuous relationship to the notorious explorer. In June 2016, the 362 foot of Columbus was unveiled 45 miles west of San Juan on a ceremonial site for the Taíno, a culture nearly driven to extinction by Columbus's exploits. Learn why islanders are wary of Columbus's history on their island, and why they attribute centuries of disasters to his name, which they dare not utter in completion. 
 
Next, see Castillo San Cristobal (external only), which was meant to protect the city from attacks by land, and remains haunted by one of the island's tragic love stories, reminiscent of Shakespeare's Romeo & Juliet. Other tales include the disappearance of a Spanish soldiers whose clothes and gun remained in the remote sentry box; to this day, numerous sightings of the lovers and the soldier are still being reported.

From the Castillo, continue on to several more haunted sites - theaters built on the site of 18th century gallows, stories of human radiation tests performed in prisons, whose coverups go as high as the White House. 
 
 See Hotel El Convento - the oldest member of Historic Hotels of America, and hear the eerie tales known by the locals, of a wealthy widow who turned her home into a convent after her husband was killed, and listen for the faint sounds of robes across the tile floors. 
 
Your private historic hauntings tour of San Juan is two and a half hours and is all done on foot. It is suitable for people of all ages, provided that adults are present with children. Be sure to bring water and stay hydrated throughout your haunted walk. 
The San Juan National Historical Site (Castillo San Cristobal, El Morro, and La Fortaleza) is closed in the evenings and is not visited internally on this tour. If you wish to visit these sites on a ghost tour, please book our day tour instead.  
Tour duration
2.5 hours 30 minutes
Type of tour
Walking tour: no transportation is included
Tickets included
No tickets required 
Other inclusions
Gratuities optional 
Suitable for
Couples, Family, History Buffs, Intellectually Curious
Attractions along this route:
Plaza Colon
The main plaza in San Juan, Plaza Colon is named for the explorer, Columbus, though it has statues and memorials to several notable Puerto Rican leaders.
La Fortaleza
The powder blue hillside house is the home of the Governor of Puerto Rico and was built five centuries ago.
Hotel El Convento
Commissioned in 1646 by King Philip IV of Spain, Hotel El Convento is the oldest member hotel operating in the Historic Hotels of America group.
Castillo San Felipe del Morro
Simply called 'El Morro' by locals, it was built by a fort in the 16th century to protect San Juan from amphibious attacks.
Castillo San Cristobal
Built to protect San Juan for attacks by land, Castillo San Cristobal is the largest fort built by the Spanish in the Western Hemisphere.
Teatro Tapia
Home to the oldest operating stage in the USA, the theater stands on the site of former gallows and is notoriously haunted.
Capilla del Santo Cristo de la Salud
The chapel's origin stories date back to a horse race gone awry, but the legends that arose from that race have brought worshipers seeking petitions of health.
Puerta de San Juan
The door served as the entrance to the city during the Spanish colonial era.