Private Day Trip to Muir Woods and Sausalito
Instant Confirmation
Private Tour
5 hr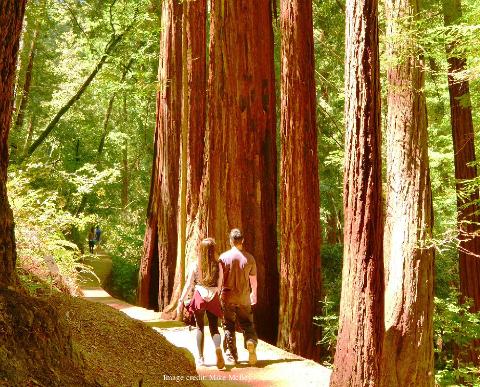 Enjoy a private excursion to Muir Woods National Monument with entrance included, and enjoy the coastal town of Sausalito.
Itinerary Details
Operated by: Travel Curious
Nothing prepares you for the tranquil hush and serenity of these magnificent old-growth woodlands, stretching deep and dark along the Pacific Coast with mesmerizing views. On your private excursion to Muir Woods and Sausalito, you will:


Enjoy hotel pick up by your private driver-guide and cross the spectacular Golden Gate Bridge. 
Soak up spectacular views across the Bridge, the Bay, and the city skyline.
Explore the raw serenity of the 300ft old-growth soaring redwoods at Muir Woods (with entrance included).
Discover the National Monument's deep green glades and leafy winding trails.
Enjoy lunch at the pretty seaside town of Sausalito, north of the Golden Gate Bridge (price not included in the tour).
Browse Sausalito's houseboat enclaves built by artistic squatters after WWII.
Enjoy hotel drop off at your hotel or somewhere in the city centre of your choosing. 
Resplendent 300ft redwood trees soar skyward in atmospheric Muir Woods where shady, peaceful glades evoke the prehistoric origins of this magnificent species. Dedicated to the father of America's national parks in 1908, beautiful Muir Woods rises up from a fern-clad valley rich in wildlife, part of a National Monument within California's Golden Gate National Recreation Area, to the north of San Francisco. 

On this Private Excursion to Muir Woods and Sausalito, learn about the foundation of one of our first and most loved US National Monuments, and walk a thriving old-growth Coastal Redwood forest. Follow leafy winding trails that inspired John Muir's strong voice for the preservation of America's most special places.  Along the way, cross the Golden Gate Bridge and enjoy vistas of the San Francisco skyline, Pacific Ocean and San Francisco Bay. After returning via a scenic mountain road, enjoy a visit to the charming and upscale waterfront hamlet Sausalito for lunch, with reservations made in advance for you.  
Tour duration
5 hours
Type of tour
Excursion tour - a private vehicle will take you to/from your destination. At your destination you will walk between sights.
Tickets included
Muir Woods Park entrance tickets


Other inclusions
- Driver/Guide Gratuity is included
- Food & drink are not included. 

 
Suitable for
Adventurous, Family Friendly, Friends, Nature & Outdoors
Attractions along this route:
Golden Gate Bridge
This superlative piece of civil engineering is the most recognisable symbol of San Francisco, and an icon of the United States.
Muir Woods
Part of the Golden Gate Recreational Area, this breathtaking redwood forest is named in honour of the famous naturalist John Muir.
California Giant Redwoods
Giant redwoods - Sequoia sempervirens - are the surviving species of the Sequoia genus, which can reach astonishing heights of up to 375 feet.
Sausalito
In Marin County, the quaint town of Sausalito is lined with sidewalk cafes and paths along the water, across the bay from San Francisco.
Muir Woods Trails
Discover the park and get amazed with nature as you walk by the wood paths and trails to make your way.