Discover The Beatles History in London: Private Black Cab Tour
Instant Confirmation
Private Tour
3.5 hr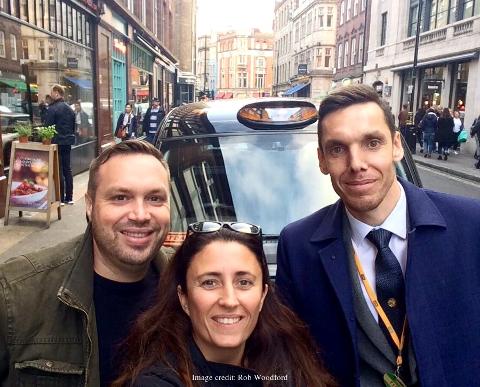 Visit the haunts and the homes of The Beatles across London in an iconic Black Cab and discover their history in the English capital following the steps of Lennon, McCartney, Harrison, and Starr.
Itinerary Details
Operated by: Travel Curious
This private driving tour will take you on a journey to discover The Beatles' history by exploring some of the places where momentous events took place, and though the Beatles were originally from Liverpool, they called London home at several stages throughout their lives and careers.

On your private Black Cab tour, you will:


Travel in the comfort of a private and iconic London Black Cab;
Uncover the musical scene of London with your expert private driver guide and Beatles aficionado!;
Visit all key hangouts and spots across London frequented by Lennon, McCartney, Harrison, and Starr;
Recreate the famous Abbey Road album cover as you stand on the crossing by Abbey Road Studios;
See outside several flats and homes where the band members have lived throughout the city;
Drive through the iconic neighbourhoods where the Beatles lived, played and recorded their chart-busters, including the West End, Mayfair, Soho, and Piccadilly. 

Celebrate one of the world's most successful rock and roll bands – on your private British invasion tour, which brings to you several of the Beatles' most famed places in jolly, old London.  

Your driver-guide will pick you up in a yellow submarine - and by that, we mean traditional London black cab -  at your hotel for a groovy Beatlemania Tour experience. 

Join the Lonely Hearts Club Band and see where John, Paul, George, and Ringo stayed and played while in London. 

On top of many fans, a wish list is the famous Studios on Abbey Road, and your party can re-create the famous Abbey Road album cover on that pedestrian crossing, where you can 'come together, right now over [this].' 

You will wake up the next morning singing that, 'yesterday - all your troubles seemed so far away after enjoying one of the city's most popular tours.
Tour duration
3.5 hours 30 minutes
Type of tour
Driving tour: Private Black Cab throughout the tour
Tickets included
- English Speaking Guide
- Hotel pick-up and drop-off from central London hotels
Other inclusions
- Gratuities optional
- Food & drinks not included
Suitable for
Couples, Culture Vulture, Friends, Seniors
Attractions along this route:
Buckingham Palace
Buckingham Palace is the official London residence for HM Queen Elizabeth II and it's one of London's most popular attractions.
Piccadilly Circus
Piccadilly Circus is the most buzzing place in London, and it's no surprise it's known as the Times Square of London.
Soho
A colourful, rebellious neighbourhood oozing with countercultural vibrations.
Marylebone High Street
A stylish shopping street in the heart of Marylebone village.
Mayfair, London
One of London's most lavish, exclusive neighbourhoods. Embassies, prime offices and boutiques occupy former mansions and aristocratic homes.
Abbey Road
Studio made famous by The Beatles
Prince of Wales Theatre
Dating back to 1884, the Prince of Wales Theatre has been known for its breath-taking shows, from musicals to classic plays.