Reina Sofia Art Museum, Madrid: Private Guided Tour
Instant Confirmation
Private Tour
2.5 hr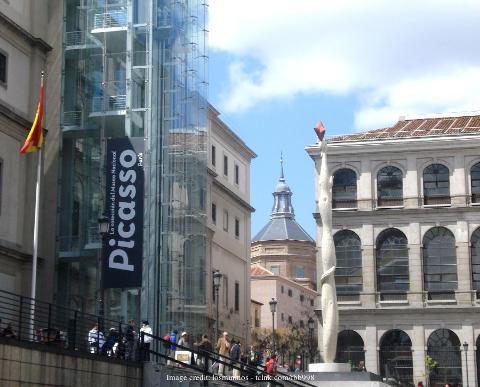 Enjoy a private, guided tour of one of the world's finest modern art museums with skip the line tickets.
Itinerary Details
Operated by: Travel Curious
Visit the Reina Sofia Museum, today considered one of the finest collections of 20th-century art in Europe, and together with the Prado and Thyssen-Bornemisza Museum – it forms Madrid's prestigious Golden Triangle of Art. On your private tour you will:
Enjoy the personalised attention of your specialist private tour guide.
Explore the renowned Reina Sofia Museum, one of Europe's greatest collections of 20th-century art. 
Learn of the life and work of some of the greatest Spanish artists of all time. 
Admire the most world-famous collection of cubist and surrealist works.
See masterpieces by Juan Gris, Georges Braque, Miró, Dalí and Picasso, including his famous painting "Guernica".
Experience the tranquil ambience of the vast, almost palatial complex and feel free to ask your guide any questions or to focus on your favourite artists. 
Enjoy the café and gift shop at the end! 

When the Museo Nacional Centro de Arte Reina Sofía opened its doors in 1990, it won international acclaim for its modernity and scale. Today the museum's expanded space includes an extra structure, handsome paved plazas, and additional cultural space. The imposing permanent collection of 20th-century art is enhanced by ever-changing temporary exhibitions, ensuring it ranks amongst the world's most impressive modern art museums. 

Explore the works of Spanish contemporary artists Joan Miró, Antoni Tàpies, Pablo Serrano, José Gutierrez Solana, and Juan Gris, Salvador Dali and Pablo Picasso. Other stands out artists who are not from Spain include Wassily Kandinsky, Diego Rivera, Max Ernst and Damien Hirst. 

Whilst moving through the galleries - a crossroads in objects and time - explore the museum's style of displaying its pieces, which positions masterpiece paintings side by side with photography, film, sound, design and dance without hierarchy. Learn why certain styles and movements proliferated at different points in the 20th century and examine the impact of the socio-political climate on the lives of the artists and their art. When you reach Guernica - one of Picasso's finest works - explore why the artist would have preferred it be on display at the Prado. 

Enjoy a rich and immersive experience that brings the artwork to life with your specialist private guide. You'll gain expert insight into the history of a vast collection of artefacts and a collection that boasts over 4000 paintings.


Tour duration
2.5 hours 30 minutes
Type of tour
Walking tour: no transportation is included
Tickets included
- Timed entrance tickets to the Reina Sofia Museum. 
Other inclusions
Food, drinks & Gratuities not included
Suitable for
Couples, Culture Vulture, Family, Friends
Attractions along this route:
Museo Reina Sofía
A museum that plays host to some of the greatest names in 20th century art.
Guernica By Picasso
This world-famous painting is Picasso's sensational tribute to victims of the Spanish Civil War.
Salvador Dalí
The Reina Sofía holds an amazing collection of work by Spain's beloved surrealist Salvador Dalí.
Joan Miró
Some of Miró's most important work can be found in the Museo Reina Sofía.
Juan Gris
Spanish paintor, Juan Gris or José Victoriano González, focused on developing cubism. We can find his amazing work at the Museo Reina Sofia.
Georges Braque
Georges Braque (1882–1963), the French painter dedicated his work to cubism. Museo Reina Sofia in Madrid displays some of his work