Historic Georgetown: Private Half-Day Walking Tour
Instant Confirmation
Private Tour
3 hr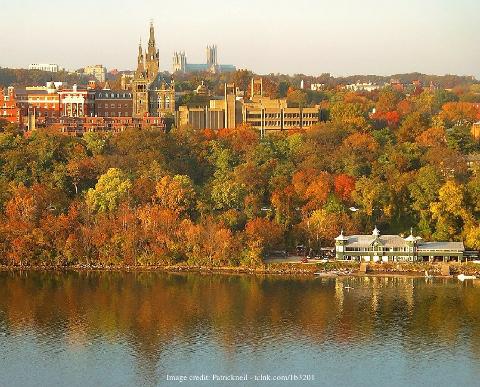 Discover Georgetown's rich history from 18th-century homes to the C&O Canal and learn how Washington DC grew up around early settlements that still exist today.
Itinerary Details
Operated by: Travel Curious
On this leisurely walking tour, you will be immersed in one of the most historically significant parts of Washington D.C., known for its wealth of historic buildings and graceful way of life. Delve into Georgetown's colonial and Federal period history with a private guide, who will bring to life stories of long-standing traditions, high society and world politics. 

On your historic Georgetown walking tour, you will:


Stroll the cobblestone pavements and admire the historic C&O Canal;
Walk along tree-lined streets past some of the city's most famous homes;
Discover a host of iconic names that have resided in the neighbourhood - including John F and Jackie Kennedy, inventor Alexander Graham Bell, Hollywood actress Elizabeth Taylor, and chef Julia Child;
Marvel at the pre-Revolutionary buildings and admire architecture that dates from after 1800 that is preserved by the National Park Service;
Learn about the neighbourhood's post-Civil War flourishing African American community, its early 20th-century slump and its ascent to the it-place of DC in the 1950s;
Learn about young JFK and see the tavern booth where he proposed to Jacqueline Bouvier;
Stroll the historic Georgetown campus, and learn about the relationship between the school and the rest of the city.
Described as a "dirty little hole" by Abigail Adams, the former First Lady of the United States, Georgetown had humble beginnings: as a working port, on the banks of the slurry-filed Potomac River. Named after King George II, and founded in 1751, Georgetown served as a depot for the collection and shipment of military supplies during the Revolution. 

A textile factory, paper mill, grain stores and more flour mills were added and when the capital was established to the east, Georgetown's character became more distinct. Georgetown became renowned as a fashionable quarter of the capital, drawing visitors from all over the world and becoming part of Washington City in 1871. 

After the Civil War, large numbers of freed slaves migrated to Georgetown and a thriving African American community flourished, establishing businesses and neighbourhoods. However, by the 1890s, the area had undergone a drastic decline and in the aftermath of World War I, it was considered one of Washington's worst slums. 

However, within a generation, the trend had all but completely reversed. When a young Senator John F. Kennedy resided in the neighbourhood in the 1950s, Georgetown was the place to be and be seen.

Home to world-class shopping, rich history, five-star restaurants and one of the world's best universities - in fact, the university for anyone looking to enter a career in Washington - Georgetown is a neighbourhood that simply cannot be missed. 
Tour duration
3 hours
Type of tour
Walking tour: no transportation is included
Tickets included
- English Speaking Guide


Other inclusions
- Gratuities optional
- Tickets are not included
- Food and drink are not included
- Hotel pick-up and drop-off are not included
Suitable for
Couples, Family, Friends, History Buffs
Attractions along this route:
Martin's Tavern
Opened the day after Prohibition ended, Martin's Tavern in has been a storied establishment, including where JFK proposed to Jackie Bouvier in his favorite booth.
Georgetown University
The oldest Jesuit and Catholic University in the US, Georgetown University is a world-class university at the center of a historic neighborhood.
C&O Canal
The Chesapeake and Ohio Canal operated for nearly a century, transporting coal to the residents of DC.