Visit Stonehenge & Historic Bath: Private Day Trip from London
Instant Confirmation
Private Tour
10 hr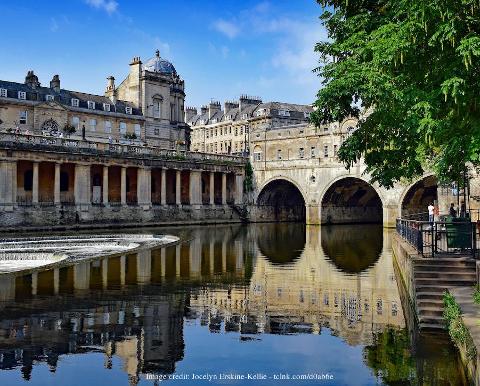 Embark on a private day trip from London to visit prehistoric Stonehenge and Bath, one of the most visited cities in England, famous for its impressive architecture and Roman remains.
Itinerary Details
Operated by: Travel Curious
Experience a truly special and comfortable day trip through the English Countryside, as you visit the UNESCO World Heritage Site at Stonehenge and the beauty & charm of Bath with its distinctive golden stone buildings. On your private tour, you will:


Enjoy hotel pick-up and drop-off from your central London hotel. 
Visit the world-famous Stonehenge, an enigmatic collection of 5000-year-old Neolithic stones.
Wander around the site with your expert guide and try to uncover the mystery of Stonehenge for yourself. 
Learn the story of the people who lived and worshipped at Stonehenge.
Experience the Georgian architecture of Bath, regarded by many as England's prettiest city.
Discover the Royal Crescent, one of the most recognised landmarks of the city.
See Bath's stunning sites: from Bath Abbey and Pulteney Bridge.
Enjoy a relaxing journey back to your hotel after a long day of sightseeing in your own private car.

Be picked up from your hotel in a comfortable car and journey to the enigmatic Stonehenge - a mystical collection of 5000-year-old Neolithic stones, located on the rolling plains of Salisbury, Wiltshire. This monumental stone circle is still very much a place of strong spiritual and esoteric significance - a haunting echo from Britain's forgotten past. It is a mystery as to why the stones were placed here and what purpose they served. Why not wander around the site with your expert guide and see if you can attempt to unlock the secrets of the stones for yourself? There is also an excellent visitors' centre that will help to shed light on the fascinating people that lived and worshipped at Stonehenge. 

In the afternoon, you will continue onward for a private walking tour of Bath - famous for its elegant Georgian architecture and widely considered one of England's prettiest cities. Follow your expert guide on a picturesque tour of the city, through its beautiful Regency squares and quaint mews. You will see Bath Abbey and the stunning Pulteney Bridge, modelled after the Ponte Vecchio in Florence. Lastly, you will end your comprehensive tour with a pleasant car journey back to your hotel. 


Please note
: if you wish to visit the
Roman Baths
, you must contact us to pre-book those tickets, which are not included in the tour.
Tour duration
10 hours
Type of tour
Driving tour: Private Black Cab throughout the tour
Tickets included
- English Speaking Guide
- Black Cab throughout the tour including hotel pick-up and drop-off from central London hotels
- Stonehenge Tickets
Other inclusions
- Gratuities optional
- Food & drinks not included
Suitable for
Culture Vulture, Family, Friends, History Buffs
Attractions along this route:
Stonehenge
One of the world's most famous and mysterious prehistoric monuments.
Bath
A gorgeous town, famous for its Roman Baths and picturesque city centre.
Roman Baths
Hidden beneath the city of Bath lies the stone remains of one of the finest religious spas of the ancient world. Designed for public bathing & used until the end of Roman rule in Britain in the 5th Century CE.
The Circus in Bath
Originally called the King's Circus, and designed by English architect John Wood, is a historic ring of large townhouses in the city of Bath, forming a circle with three entrances.
Bath Assembly Rooms
Designed by John Wood in 1769 this fine set of public rooms was purpose-built for "The Assembly", a particular 18th-century form of entertainment.
Royal Crescent
The Royal Crescent, one of Bath's most iconic architectural landmarks, is a row of 30 terraced houses laid out in a sweeping crescent in the city of Bath. Designed by the architect John Wood, and built between 1767 and 1774, it housed many notable people since it was built over 240 years ago.
Bath Abbey
Bath Abbey is a parish church of the Church of England and former Benedictine monastery.
Pulteney Bridge
Designed by Robert Adam in a Palladian style and completed by 1774, the Pulteney Bridge crosses the River Avon and connected the city with the land of the Pulteney family.