Hampton Court & Windsor Castle: Private Trip from London
Instant Confirmation
Private Tour
8 hr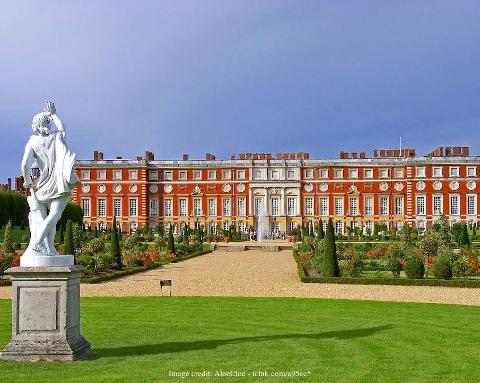 Embark on a private day trip from London and explore two Royal treasures: Hampton Court Palace, home of Henry VII & the Tudor dynasty, and Windsor Castle, the world's oldest & largest occupied castle.
Itinerary Details
Operated by: Travel Curious
Just outside of London, two Royal treasures and England's most notable places await you: Hampton Court Palace and Windsor Castle. You will explore the home of Henry VII & the Tudor dynasty, and the world's oldest & largest occupied castle and the current residence of Queen Elizabeth II with your private tour guide who will share the stories and the history behind these two British landmarks.

On your private day trip from London, you will:


Travel in the comfort of a private and iconic London Black Cab;
Enjoy the personalised attention of your private tour guide, who is also a licensed black cab driver;
Visit the stunning Hampton Court Palace, Henry VIII's residence of famous for its beautiful gardens;
See Hampton Court's sixteenth-century astronomical clock which is still functioning;
Explore The Maze, commissioned in the 18th century and is now UK's oldest surviving hedge maze;
Travel to Windsor Castle after a lunch break, and discover the grounds of the Queen's favourite weekend residence;
See the State Apartments and St. George's Chapel, the resting place of many English Kings and Queens, and the wedding venue of Harry and Meghan;
Stop along the way at Runnymede Field where King John signed the Magna Carta in 1215;
Enjoy a relaxing drive back to your centrally located London hotel. 
Your day begins with a day trip to Hampton Court Palace, where lies the spectacular favourite residence of Henry VIII built in 1514, where you will explore the impressive maze and beautiful gardens, see the astronomical clock and visit Henry VIII's tennis court.

Afterwards, you will visit Her Majesty's favourite weekend residence, the beautiful Windsor Castle. You will be able to walk through the exquisite State Apartments, which display artworks by Rembrandt and Leonardo da Vinci. 

You will see magnificent rooms, including St. George's Hall where larger-than-life banquets are held, stunning suits of armour as well as flawless grounds and gardens. Another highlight will be St George's Chapel - where numerous weddings within the Royal family have taken place and where famous monarchs, including the infamously beheaded Charles I, are buried.

With your personal guide providing insight along the way, this is the perfect day trip from London to discover two amazing Royal Treasures.
Tour duration
8 hours
Type of tour
Driving tour: Private Black Cab throughout the tour
Tickets included
- English-Speaking Driver Guide
- Entrance tickets to Hampton Court and Windsor Castle
- Private Black Cab throughout the day
Other inclusions
- Hotel pick-up and drop-off from central London
- Gratuities optional
- Food & Drink are not included
Suitable for
Culture Vulture, Family, Friends, History Buffs
Attractions along this route:
Hampton Court Palace
Hampton Court Palace is a royal palace with 60 acres of beautiful gardens, that was transformed from ordinary country house to a magnificent palace by Cardinal Thomas Wolsey, Henry VIII's Lord Chancellor in the 16th century.
The Windsor Castle
Windsor Castle is the oldest continuously occupied palace in Europe which was built in the 11th century by William the Conqueror.
St George's Chapel, Windsor Castle
Built in the fourteenth century, St George's Chapel at Windsor has played host to numerous royal weddings and funerals and is one of England's most visited sites.
The State Apartments
Inside Windsor Castle are three wards of state apartments - the upper ward rivals the grand decor of Versailles.
Windsor Long Walk
This impressive 3 miles long tree-lined avenue begins at the George IV Gateway at Windsor Castle and ends at the magnificent Copper Horse statue.
Queen Mary's Doll House at Windsor
Queen Mary's Dolls' House is the largest dolls' house in the world. Built between 1921 and 1924 for Queen Mary, consort of George V, by the leading British architect Sir Edwin Lutyens, it includes contributions from over 1,500 of the finest artists, craftsmen and manufacturers of the early twentieth century.