Downtown LA's Art Deco Architecture: Private Walking Tour
Instant Confirmation
Private Tour
3 hr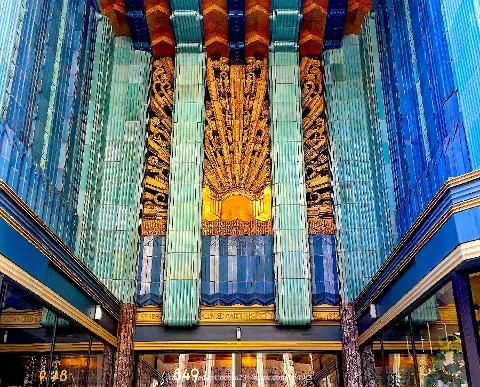 Explore an unknown side of Los Angeles on this Art Deco architecture walking tour, and discover some of the most incredible buildings from the 1920s and 1930s that LA has to offer.
Itinerary Details
Operated by: Travel Curious
Immerse yourself in the largely unknown architectural splendour of downtown Los Angeles, and explore some of the most incredible buildings of geometric patterns, brilliant colours, and luxurious materials that characterised Art Deco. On your private walking tour of Downtown Los Angeles, you will: 


Meet your guide and learn from a full introduction to Art Deco and Beaux-Arts movement. 
See spectacular buildings adorned with marble columns, and features like verticality observed in old offices that are now converted to luxury lofts. 
Explore several of the city's most beloved sites, including Union Station and the Biltmore Hotel. 
See various architecture styles and features on display, from green terra cotta to Greek columns and Romanesque Revival styles. 
Finish your tour at Santee Alley, where you can explore one of LA's most well-known outdoor markets.
Be sure to get recommendations for places to eat in the area because downtown is now known for its thriving foodie scene! 

When one thinks about Los Angeles, images of beaches, Beverly Hills, sunshine, and the glamourous life of the rich and the famous all come to mind, but what about downtown LA? For years, downtown was rarely seen as safe, let alone as a major travel destination. But in recent years, all of that has changed, especially as businesses and developers clean up some of the city's recognisable highrises, which were largely built in the 1920s and 1930s in spectacular art-deco fashion. 

On your private tour, you will see glimmering marble columns, an art-deco library saved from demolition, Greek temples, and buildings designed to emulate the Paris exposition of 1925. You'll wander through the jewellery district and see one of LA's old movie theatre companies, which still evokes the feelings of 'Old Hollywood'. Your tour will end in Santee Alley, where your guide will take you through a bit of the market before parting with you. Your guide will be the best source of food advice for downtown, so be sure not to miss out on all the spots where you can go on a culinary adventure. 
Tour duration
3 hours
Type of tour
Walking tour: no transportation is included
Tickets included
No tickets are required.
Other inclusions
Gratuities, food & drink are not included. 
Suitable for
Couples, Friends, Intellectually Curious, Seniors
Attractions along this route:
Union Station, Downtown LA
Built in 1939 - before cars and planes became the travel MO of Americans - Union Station in downtown was built to consolidate the stations of three different major rail lines.
Los Angeles City Hall
The seat of government for the city and an architectural reference of art deco design.
Pershing Square
A small square in the heart of downtown LA's historic district.
James Oviatt Building
Is an Art Deco building in Downtown Los Angeles.
Biltmore hotel
A luxury hotel in Downtown Los Angeles with an Art Deco style.
PacMutual Building
Three interconnected buildings built between 1908 and 1926 represents an impressive example of a beaux-arts style.
Eastern Columbia Building
A thirteen-level Art Deco building designed by Claud Beelman.