GC - West Rim Bus Tour With Walking Tour Guide
Instant Confirmation
11 hr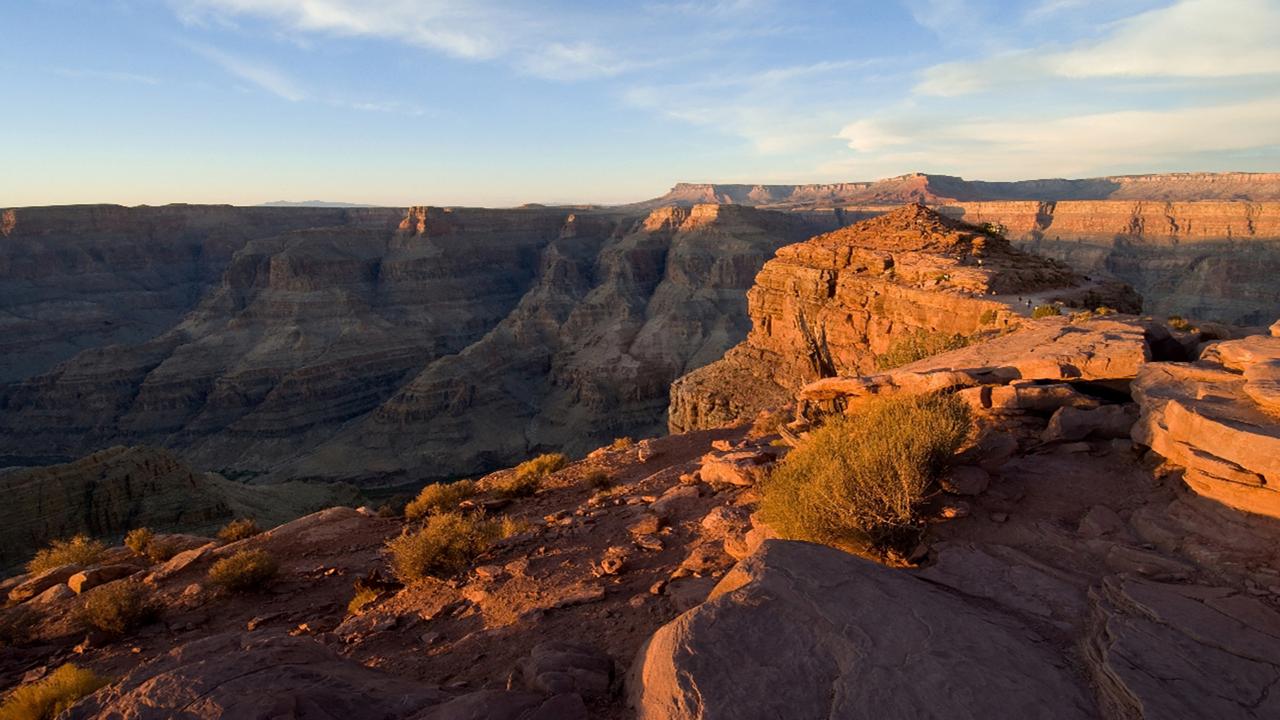 This tour includes a walking guide that points out exciting viewpoints and sites. Your guide knows where all of the best photo opportunities are, and the hidden Grand Canyon memorable scenery.
Itinerary Details
Operated by: Tour Orders
Taking A Grand Canyon West Rim Bus Tour
Our Grand Canyon West Premier Bus Tour is different from other bus tours in town. We DO NOT use a check-in terminal. Instead, we pick up directly from hotels on the Strip or downtown Las Vegas. This means, we have later pick up times and earlier drop off times, so you get to sleep in later and get back to your hotel earlier! Your assigned pickup time will be emailed to you by 6:30 PM the night before your scheduled tour. If you don't have access to your email, please call our office the night before your tour. Pickups for this West Rim tour are scheduled between 7 AM and 8 AM.
Why Choose A Walking Tour Guide
This Grand Canyon West Rim Bus tour from Las Vegas includes a walking tour guide that points out exciting canyon viewpoints and sites. Your guide knows where all of the best photo opportunities are, and the hidden Grand Canyon gems you will want to see. Your tour guide will point out local wildlife and native plant species. This tour makes for a fun day that will leave you impressed with the guides knowledge and friendly narration of the tour's best highlights.
What To Expect On Your Grand Canyon Tour
Our bus drivers and trained tour guides will provide you with interesting facts, stories, and information during your journey. To make your trip more comfortable, our luxury buses are equipped with reclining seats, air conditioning, overhead storage, overhead lighting, a PA system and video monitors for in route movies. There is also an onboard restroom available for use during travel.
The Drive To The West Rim From Las Vegas
To begin the morning, we provide you with a delicious breakfast snack to enjoy on the way. Your onboard guide will share facts and stories of the canyon with you.
Arriving At The West Rim
Once you arrive at the Grand Canyon West Rim you will be dropped at the Welcome Center. Your entry fee to Grand Canyon West is included in the price of your tour package. We do not charge any additional taxes or fees like other companies do. Please be aware that the price for admission to the Skywalk, however, is NOT included in our tour. Skywalk entry is optional and is available to purchase for $33 upon checkout when booking your tour, or at the West Rim Welcome Center. Your walking tour guide is also able to upgrade your reservations to include Skywalk tickets at any time during the trip to the West Rim
Taking The West Rim Shuttle
From there, you can catch the free hop on/ hop off shuttle that will transport you to Eagle Point, where the famous glass Skywalk Bridge is located, and to Guano Point. You will ride the shuttle with your tour guide to the first lookout, Eagle Point. The incredible view of the eagle shaped rock formation is something that can only be truly appreciated in person. At Eagle Point there is a Native American Indian Village which demonstrates some living dwellings used by Native American tribes in times of old. The entire Grand Canyon West Rim is located on the Hualapai Indian Reservation and is owned and operated by the Hualapai Tribe. The Skywalk Bridge and Skywalk gift shop are also located at Eagle Point.
The next stop is Guano Point, which is often seen in movies. The views at this point are completely different than Eagle Point, but maybe even more impressive. If capable to walk it, the dirt trail along the edge at Guano Point provides for spectacular views from different angles. Featuring photo opportunities your walking tour guide will point out that will amaze you. 
The Drive From Grand Canyon West Rim To Las Vegas
At the end of the tour, the group will return to the Welcome Center. From there, you will head back to Las Vegas from the Grand Canyon. For one final incredible memory on the return drive, keep your eyes open and enjoy the breathtaking views of Hoover Dam as you drive over the Mike O'Callaghan – Pat Tillman Memorial Bridge at night. Lastly, you will see fabulous Las Vegas illuminated against the night sky up as you descend into the valley.
Taking a Grand Canyon West Rim tour is the perfect addition to any Las Vegas vacation. To be sure you are getting the best service in town at the most affordable prices, make sure to travel with us.