Private Walking Tour of New Orleans' Garden District
Instant Confirmation
Private Tour
2 hr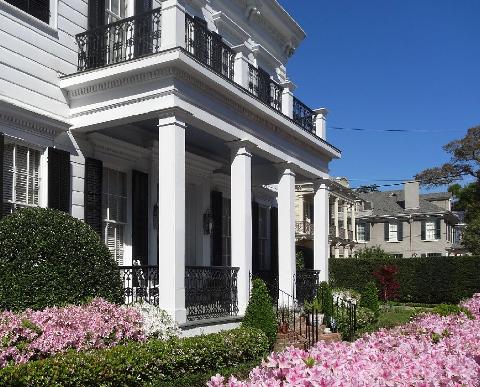 Enjoy a guided, historical walk of the city's mansion-lined district.
Itinerary Details
Operated by: Travel Curious
Perfect for an idyllic stroll down tree-lined boulevards, the Garden District subtly demands more of your day than you had planned. On your private, three-hour tour of the Garden District, you will: 
Enjoy a laid back pace as you learn about the city formerly known as Lafayette 
See the array of architectural styles present throughout the neighbourhood. 
Learn about the complex history of the 19th century mansion-filled neighbourhoods and the cotton economy 
See the homes of the stars who have settled in the district, including Sandra Bullock, John Goodman, and Archie Manning.  
Finish your tour on Magazine Street, where you can enjoy vintage shopping and browse art galleries. 
Today's New Orleans Garden District was once Lafayette, before becoming incorporated into New Orleans. The area is packed with resplendent 19th century mansions, built for cotton kings and the fortunes from industries which grew up around cotton. From Greek Revival and Italianate styles to Queen Anne and Second Empire, each mansion capturing the grand vision of its original owner. Though the grandeur of the homes on street lined with sprawling magnolias and towering oaks feels like a haven, your guide will tell the stories of the slaves who toiled for decades without compensation to build the vast fortunes which enabled areas like the Garden District to exist. 
While on your tour,  hear about fascinating families of old and of today's residents - artists, poets, film stars, and athletes. Your tour ends with a refreshing drink (house wine, beer, or coffee) at a local spot where your guide will point you in the right direction for the best dining, shopping, and entertainment in the district, giving you the local knowledge you need to enjoy the rest of your time in the area. 

Please note: Occasionally Lafayette Cemetery is closed to the public.
Tour duration
2 hours
Type of tour
Walking tour – no transport costs are included. Your guide will help you get around on the day.
Tickets included
No tickets required
Other inclusions
A local beer, house wine, or refreshing coffee. 
Suitable for
Family, Friends, History Buffs
Attractions along this route:
Briggs-Staub House
Built by a Londoner in 1849, it's the only Gothic Revival style home in the Garden District.
Musson Bell House
Musson, a French Creole, was a cotton merchant, and the uncle of impressionist painter Degas. He lived in the home until 1869.
Archie Manning House
NFL superstars, Peyton and Eli Manning, both grew up in the family home in the Garden District.
Bradish Johnson House
A plantation and sugar refinery owner, Johnson's industrial wealth enabled him to live a life of luxury in the Garden District and in Madison Square, New York City.
Joseph Merrick Jones House
Named for its resident throughout the first half of the 20th century, it has been owned by Trent Reznor of Nine Inch Nails and is said to be owned by John Goodman now,