London's Fitzrovia Private Walking Tour
Instant Confirmation
Private Tour
2 hr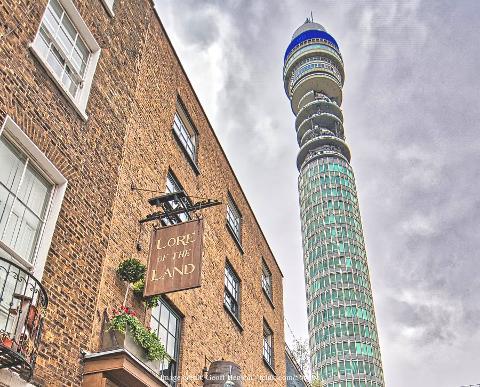 Discover the fascinating area of Fitzrovia, home of the British Museum, in the heart of London on this private walking tour.
Itinerary Details
Explore the historic neighbourhood of London's Fitzrovia, with its handsome Georgian squares, trendy hotel bars, and media hub. Walk through the streets made famous by many artists and writers over the years. On your private walking tour, you will:
Enjoy the personalised attention of your private guide.
Wander through the maze of famous streets and quaint squares in the heart of London. 
Discover the stellar cast of characters who have called Fitzrovia home, from Virginia Woolf to Bob Dylan, Charles Dickens to Marie Stopes.
Walk by some iconic places like the Charlotte Street Hotel and the British Museum. 
See the BT Tower and the world-famous Great Ormond Street Children's Hospital.
Learn about the Fitzrovia Bohemians George Orwell and Dylan Thomas as you walk by the pubs they drank in. 
Stop by Pollock's Toy Museum and Hanway Street with its hidden away bars and clubs like Sevilla Mia.
See the head Google office at Rathbone Place and hidden garden.
Hear some Beatle-mania at the Soho Square Gardens and wander down the streets of Soho towards Chancery House and Sir John Soane's Museum.
Learn about the history of Elizabethan traders and Feminist publishers as you stroll along Lamb's Conduit Street.
Walk by the Charles Dickens' and Sir John Soane's Museums.
End near the Chancery - surrounded by some of London's most historic pubs!
Situated between Bloomsbury and Marylebone, London's Fitzrovia is a diverse and historic neighbourhood famed for its famous literary inhabitants like Virginia Woolf, George Orwell and Dylan Thomas. Fitzrovia is made up of lovely, quiet squares with grand Georgian architecture, as well as trendy streets and bars – like Charlotte Street – popular with the media and advertising execs who work here. 

On your private tour, you will walk past some iconic London landmarks like the British Museum, the BT Tower, and Great Ormond Street Children's Hospital. 

Fitzrovia, like Bloomsbury, is famous for its political activists, writers, and artists. You'll walk into Tavistock Square and be able to admire the statues and busts of many famous peace protestors, like Mahatma Gandhi. There is also a bust of Virginia Woolf (who lived at number 52). 

Discover Coram's Fields – site of the Foundling Hospital founded in 1739 by the philanthropist and sea captain Thomas Coram for poor, abandoned and orphaned children. Hear about the many people who became involved in this moving project, from Hogarth to Handel. And finally, end your tour near the Chancery – in the very heart of the capital and surrounded by some of London's oldest pubs. 
Tour duration
2 hours
Type of tour
Walking tour – no transport costs are included. Your guide will help you get around on the day.
Tickets included
No tickets required
Other inclusions
Food, drinks, and gratuities are not included
Suitable for
Couples, Friends, History Buffs, Intellectually Curious
Attractions along this route:
Fitzrovia
With its fascinating past and ever changing present, Fitzrovia finds itself at the centre of London life.
Fitzroy Square
This home is a literary treasure trove, having once been the home to George Bernard Shaw, and then Virginia Woolf decades later.
BT Tower
At 189 metres high, BT Tower has some of the best aerial views of London, despite being considered an eyesore by many.
Charles Dickens
One of Britain's most famous writers, Dickens lived in several homes in London, including one in the centre of Fitzrovia.
Pollock's Toy Museum
With more than a century and a half of history, the museum is a storied London institution.