Athens bus tour with Acropolis Museum
15 Ratings
Instant Confirmation
Pickup Service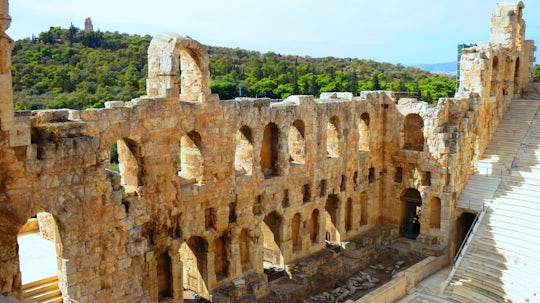 Get all the best information for the Athens City and Acropolis Museum Tour and book your tickets, skipping the line, at official rates. Get informed, plan, book your tour of Athens.
Itinerary Details
Operated by: Key Tours S.A
Perfect for a first visit to Athens, or very simply for a better feeling of the city for a morning half-day tour, this guided overview of the Greek capital will take you through the most famous sites of ancient (and modern) Athens. This tour will last 4 hours and 45 minutes and at a moderate walking pace (in the city) and a comfortable air-conditioned bus to drive you to the farther sites like the Acropolis, you will have a comprehensive morning of the city and the treasure hold of history that is the Acropolis Museum.From the bus you will see: Zappeion and Temple of Olympian Zeus - Athens Trilogy (the University of Athens, the Academy of Athens, and the National Library) - National Garden - Hadrian's Arc - St. Paul's Church - Parliament - Tomb of the Unknown soldier - Schliemann's House (Numismatic Museum) - Catholic Cathedral - Old Parliament - Constitution Square - Russian Orthodox ChurchOn foot: Panathinaiko Stadium - Herodian and Dionysos Theatre - Acropolis (visit Propylae, Temple of Athena Nike, Parthenon, Erechtheion with its Porch of Maidens) - Acropolis MuseumTHE TOURYour half-day tour of the city of Athens and the New Acropolis Museum starts with a stop at the very first Olympic Stadium, built with white marble in 1896, at the Panathinaiko Stadium. The city-tour will continue with the Athens Trilogy, passed on the bus, including the University of Athens, the Academy of Athens and the National Library. You will later pass the city's most important historical sites on your way to the Acropolis where you'll see from up close monuments like the Temple of Athena Nike, the Parthenon and more as you wind your way through the city streets and monuments in your tour bus, on your way to the Acropolis.Once there, you'll enjoy a short walk, passing by Herodian and Dionysos Theatre on your way to the New Acropolis Museum where you'll find fascinating statues, objects from ancient Greece, votive artifacts and reconstructions of the Parthenon frieze and other parts of the temple and the ancient city of Athens.With the help of your local guide, you'll be able to appreciate, understand and learn so much more about the city and the historical artifacts found in the museum than you would on your own. Your tour will end at the Acropolis Museum and if you wish, you will be dropped off at your hotel or back at the Tour Operator Terminal.