Full day Polish tour of Dubai from Dubai
6 Ratings
E-Ticket
Instant Confirmation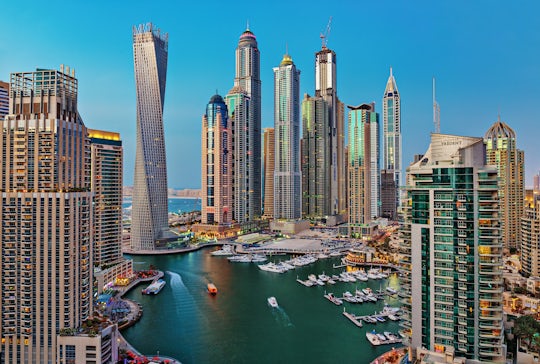 Enjoy a full day tour of Dubai with an expert Polish guide and see the Burj Khalifa, the Dubai Creek and the Al Fahidi Fort.
Itinerary Details
Operated by: Travco UAE
This fascinating tour with a Polish guide will take you through the ancient and modern part of the city. The first stop will be by the Burj Al Arab, the fifth tallest hotel in the world and the world's most luxurious one, known for its distinctive silhouette resembling a billowing sail. Afterwards, you will be heading to The Palm Jumeirah, an artificial crescent-shaped man-made archipelago. You'll then continue on to the Dubai Mall, the biggest shopping mall in the world and experience the stunning view of Dubai from the 124th floor of Burj Khalifa, the world's tallest building ever. Here you will have time to shop and also to see the fountain show. Moving the modern part of Dubai you will pass by the Dubai Creek and explore the Dubai Museum and Al Fahidi Fort. This was once the premises of the monarch, a fort of defense and also an arsenal for artillery and weapons. Following, a ride in the local water taxi, called Abra, will take you across the Dubai Creek. You will get to enjoy the waterfront from the sea and head to the peculiar Deira district where the souq nests. Here you will be amazed by the aromatic spice souq and the exquisite gold jewelry that you can find.