Amphibious bus city tour with Best of Mozart concert and panoramic dinner
E-Ticket
Instant Confirmation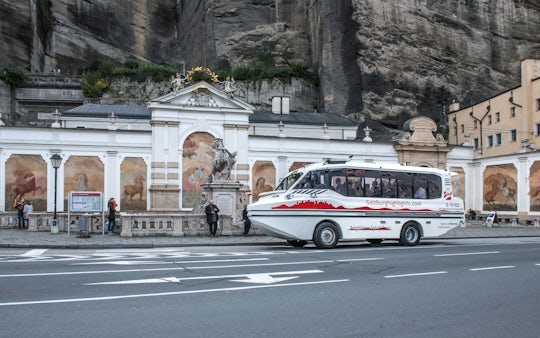 Cruise on an amphibious bus to explore Salzburg by water and land, then enjoy dinner and a concert in the Hohensalzburg Fortress.
Itinerary Details
Operated by: Salzburger Festungskonzerte GmbH
From the moment you board this world-wide unique Amphibian vehicle, which has been specially built for Salzburg, this tour – unlike any other – begins. This is no ordinary tour, but a magical experience. The trip on the water and land with the concluding "splash down" into the Salzach and the live commentaries will help to convey the sights of the city and its surroundings to you in an unbeatable way. Anyone, who has not yet done this tour, has not yet truly seen Salzburg, the city of Mozart.Upgrade your ticket to include dinner before the concert in the Panorama Restaurant on the Hohensalzburg Fortress. After ascending with the funicular to the Fortress, the Panorama Restaurant is located on the right side at the exit. At this unique location, you enjoy your dinner with marvelous views to Salzburg City and its surroundings.Afterwards, experience the Best of Mozart concert at the world-famous Salzburg Fortress (Festung Hohensalzburg) and witness an unforgettable view of the town and province. Make this a unique experience, while in Salzburg, and enjoy an evening full of great music and excellent atmosphere.