Jewish Syracuse walking tour
E-Ticket
Instant Confirmation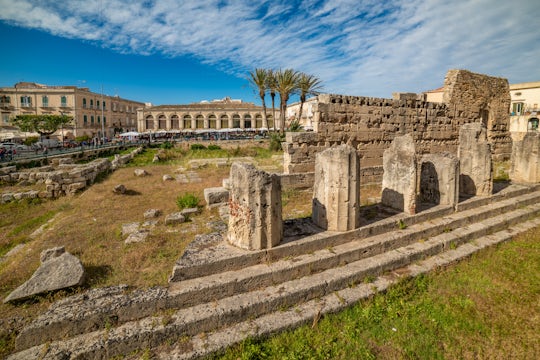 Enjoy a walking tour among Syracuse Jewish districts and sights! Discover ancient synagogues turned into churches and the Jewish Baths!
Itinerary Details
Operated by: Siracusa Travel & Living
Begin your tour at the temple of Apollo, the oldest Doric temple in Sicily, an interesting place that retraces the whole history of the city. As a matter of fact, it was built in the 6th century BC as a place destined to the cult of Apollo, but throughout history, its purpose changes; it turned into a Christian church, Arab mosque, Norman church, Spanish barrack and even in a residential building. Visiting the remains of the Temple of Apollo, brought to light by the recovery works that began in the 1800s, you will be able to see elements of all these different phases: from Doric capitals to an Arabic inscription to a typically Norman door. Then you will continue towards Palazzo Montalto, one of the few medieval buildings that survived the terrible earthquake of 1693. The Montalto palace was built, as evidenced by an inscription, in 1397 by Maciotta Mergulese. However, it was later donated by Queen Costanza of Aragon to the Jew Filippo Montalto, from whom it takes its name. In Via della Giudecca, whose name suggests the high concentration of Jewish history in the area, you'll find the Church of San Filippo. It is believed that the church rises on what was once a great synagogue and that the place hides well-kept secrets. As a matter of fact, below the church, there are hypogea, underground chambers common throughout Ortigia and often connected to each other. Walk through a tunnel dug in the stone that leads to a miqwè, a sacred place where purification baths were carried out. The synagogues of the city were banned and destroyed following the edict of expulsion of the Jews, but some miqwè (or mikvé) resisted the passage of time giving you the opportunity to visit them.Continuing along via della Giudecca you will arrive at one of the oldest Jewish baths (miqwè) in the world, where water from an aquifer still flows. It is a priceless historical jewel, found during renovation works. The Church of San Giovanni Battista, also known as the church of San Giovannello) will be the last stop of your tour. Also in this case you will visit a synagogue which was later converted into a Catholic church. Its origins date back to 1380 and are visible in the architecture of the structure.