Corleone walking tour beyond the Mafia
E-Ticket
Instant Confirmation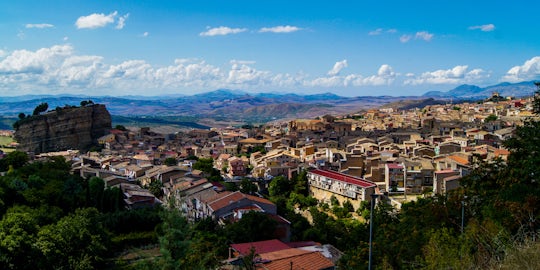 Discover Corleone walking through the town's alleys, retracing its history and learning about locals' effort to struggle against the Mafia.
Itinerary Details
Operated by: Addiopizzo Travel
The name "Corleone" is not simply that of a godfather. Discover this picturesque village in the middle of the Sicilian countryside, enjoy the warm hospitality of the people and learn more about their effort to struggle against the Mafia.Retrace the history of Corleone from the late nineteenth century thanks to this walking tour around its city center. With the assistance of your local guide, you will discover the city's main sites and visit the "Laboratory of Legality"; here you will admire the works of Gaetano Porcasi, a Sicilian painter who devoted his art to the Anti-mafia movement.Walk through the town's alleys and reach the top of Rocca Soprana to get the best view over Corleone!