Guided tour of Imbros gorge from Chania
E-Ticket
Instant Confirmation
Pickup Service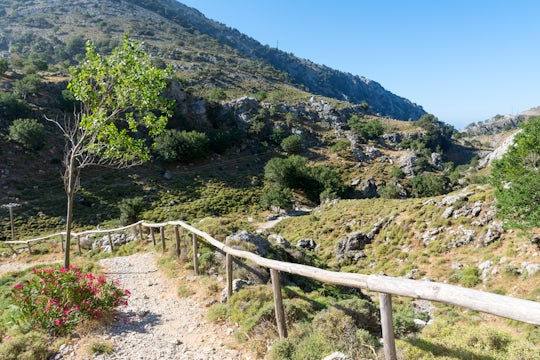 Enjoy a guided tour of Imbros gorge with pick-up from Chania and discover some unspoiled corners of the island of Crete.
Itinerary Details
Operated by: TRAVEL PATH
Imbros gorge is the second most popular gorge on Crete after Samaria. It runs parallel to its "big sister" the Samaria Gorge for 11 kilometers and its narrowest part is just 1.60 m wide. The scenery is beautiful and the low difficulty makes the descent of Imbros ideal for families with children.Your guided tour will start between 8.30am and 9.30am with pick-up at your accommodation. After one hour you will arrive to the gorge, where you can enjoy the natural beauty of the place. The 3-hour route starts from the small village of Imbros, 700 meters above sea level, near the beach Frangokastelo. The first half hour of walking is downhill through wildflower meadows with the gorge getting narrower along the way. After around 75 minutes you'll find yourself in the narrowest, most spectacular spot of the gorge. Their walls are less than two meters apart.At the end you will reach the Komitades village, where the bus will take you to the town of Chora Sfakion. Around 6pm-6.30pm you will get back to Chania and accompanied at your original accommodation.