Wachau Valley day trip with river cruise on the Danube
2 Ratings
E-Ticket
Instant Confirmation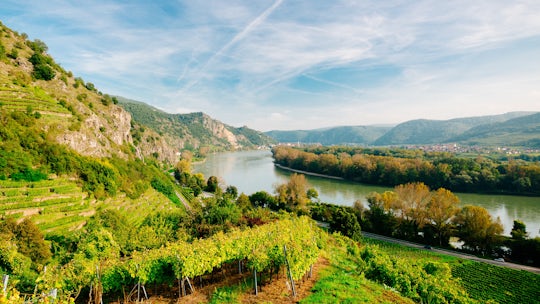 Book your Ticket for the Wachau Valley Day Tour with Danube River Cruise. Enjoy a boat trip through the UNESCO World Heritage Danube Valley and visit Melk Abbey.
Itinerary Details
Operated by: Vienna Sightseeing Tours
This all-day trip starts in Vienna and takes you to the beautiful Danube Valley: In the Wachau region, which is steeped in history and legends, the Danube winds its way past many picturesque towns and vineyards. The comfortable coach takes you from Vienna to Krems, the heart of the Wachau winegrowing region. Depending on the season, you either have a short break there or drive through the historical city centre.The next stop is Dürnstein and Spitz, where you will board the boat to Melk. You can enjoy lunch on board or eat later at the restaurant at Melk Abbey. In Melk, the coach awaits you to take you to the nearby Benedictine Abbey. The highlight of the trip is a guided tour of the abbey, one of Austria's most famous baroque buildings. The tour ends at the Vienna State Opera.NOTE: In winter time, lunch is offered instead of boat ride.