Hydra, Poros and Aegina day cruise from Athens
6 Ratings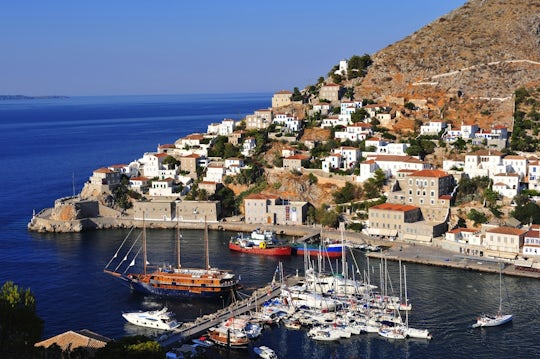 Buy your Hydra, Poros and Egina day cruise from Athens with our price match guarantee and secure booking. Get informed, plan and book your amazing activities in Athens.
Itinerary Details
Operated by: Key Tours S.A
Take a day cruise from Athens to the fabulous Greek islands of Hydra, Poros and Aegina for a relaxing day on the sea. With all your transport, transfers and buffet lunch covered, you can relax and enjoy your leisurely day cruise with free time on each island to explore!ItineraryAfter transferring from Athens to port by motor coach, you'll set sail for the island of Poros, where you'll have free time for strolling and shopping. This is a great opportunity to visit the local Russian dockyard, and learn about Greece's cooperation with the Russian army in the 18th and 19th centuries.Next, it's on to the island of Hydra. It will take you about 1 hour to get to there, but you will definitelly appreciate the opportunity to spend time on board enjoying your lunch and taking in the breathtaking Mediterranean views. From the decks, you will be able to admire the very special architecture and dramatic landscapes of this island, whose old traditional stone houses and mansions silently stand witness to a long and turbulent history.You will have about two hours to enjoy the unique charms of Hydra island. Then, you'll get back on board and sail to the last destination on your tour - Aegina, where you can either join an excursion to the Temple of Aphaia (own expense) or take a walk around the main town. After discovering the best sights of the island, you'll sail back to Piraeus port and then be transferred back to Athens.