Epidaurus and Mycenae one-day trip from Athens
4 Ratings
E-Ticket
Instant Confirmation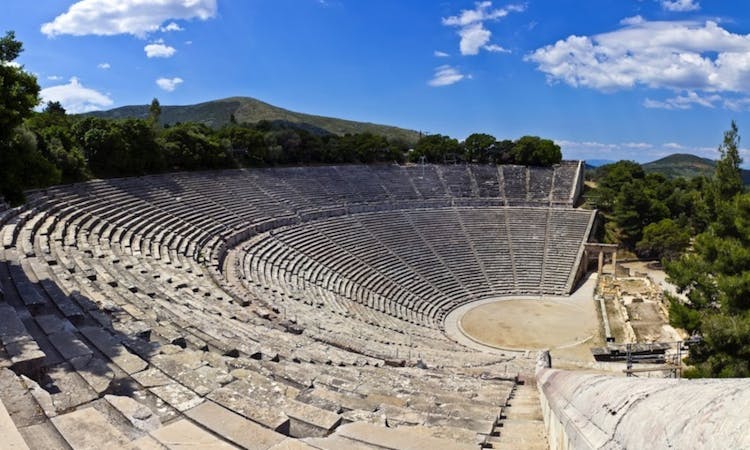 Enjoy a full-day trip from Athens to Epidaurus and Mycenae. Book your amazing activity and see more on your holiday.
Itinerary Details
Operated by: Key Tours S.A
Are you ready to explore Epidaurus and Mycenae during this one-day tour from Athens? Start your tour via the coastal National highway to see the famous Corinth canal (short stop). After this, you will enter the region of Argolis, land of Homer's Golden Mycenae, a UNESCO World Heritage site. Dating back to the second century B.C., Mycenae was one of the major centres of Greek civilization and a military stronghold which dominated much of southern Greece. Avoid lines of the archaeological site, home to the kingdom of mythical Agamemnon. You will see the Cyclopean Walls, the Lion's Gate, the Royal Tombs, and the Treasury of Atreus, a magnificent 14th-century B.C. structure.It will be then time for a traditional Greek lunch at a nearby restaurant (if you choose to include it.) You will then enjoy a short stop at the port of Nauplia, the first capital of modern Greece with its Venetian fortress of Palamidi and the fortified islet of Bourtzi.You will finally arrive to Epidaurus, where you will visit the ancient theatre. The UNESCO'S world heritage listed monument is reputed to be the birthplace of Apollo's son Asklepios. Epidaurus is probably most famous for its theatre, one of the best preserved classical Greek buildings and still used today due to its amazing acoustics. Your day trip ends back to Athens late in the afternoon.