Dune dinner safari at Bassata Camp from Ras Al Khaimah
10 Ratings
E-Ticket
Instant Confirmation
Pickup Service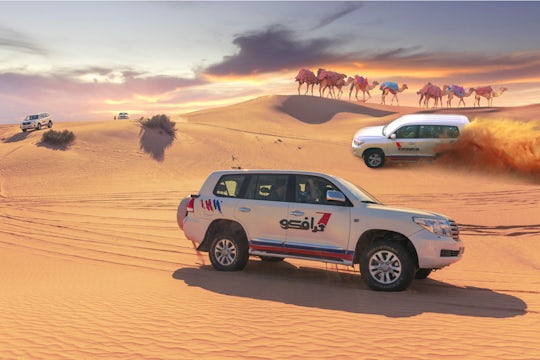 Enjoy a true Arabic experience in the natural reserve of Ras Al Khaimah. Taste good food and have fun with family and friends.
Itinerary Details
Operated by: Travco UAE
Don't miss out on this five-hour Arabian experience within the natural reserve of Ras Al Khaimah. "Bassata" means "simplicity" in Arabic, which is the atmosphere of the camp plus excitement and wonder.Enjoy an entertaining program including traditional belly dancing and the Arabic Folkloric Tanoura. You will also have the chance to get a fascinating henna tattoo. For adventure lovers, the camp offers camel rides and sandboarding. While sipping an Arabic coffee and tasting dates you can decide on which activities you prefer. The chef is also a barbeque grill master which you'll be grateful for when you taste the Arabic dishes to complete the memorable event.