Monumental Cemetery of Milan private tour
13 Ratings
E-Ticket
Instant Confirmation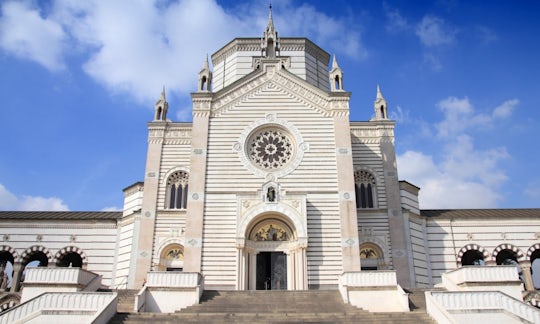 Purchase your private tour of Monumental Cemetery of Milan, an open-air museum.
Itinerary Details
Operated by: Musement S.p.A.
Not just a cemetery, but a genuine open-air museum. This is the Cimitero Monumentale (Monumental Cemetery of Milan), designed by the architect Carlo Maciachini in 1864 and inaugurated two years later. It is characterized by an eclectic style, harmonizing Byzantine and Gothic elements with a prevalence of the Romanesque style.If you really wish to know Milan, visiting Cimitero Monumentale is a must. All those people who played a role in the city's history rest inside it, from Alessandro Manzoni to Arturo Toscanini, from Francesco Hayez to Filippo Tommaso Marinetti, from Sergio Bonelli to Guido Crepax, from Alda Merini to Franca Rame, from Enzo Iannacci to Giorgio Gaber. These are just some of the famous names that the Monumental Cemetery holds within its walls. The cemetery is an ideal place to discover the evolution of Milan's artistic trends between the 19th and 20th century.Our exclusive guided tour comprises an artistic and historical introduction to the cemetery, a visit to the Famedio - the city pantheon of famous people - and the crematory temple, one of the first ones to be built in Europe. You will also be able to admire and discover the history of about 15 selected graves, that either have artistic significance or are the final resting place of famous people.