Oceanogràfic Valencia tickets and guided visit
E-Ticket
Instant Confirmation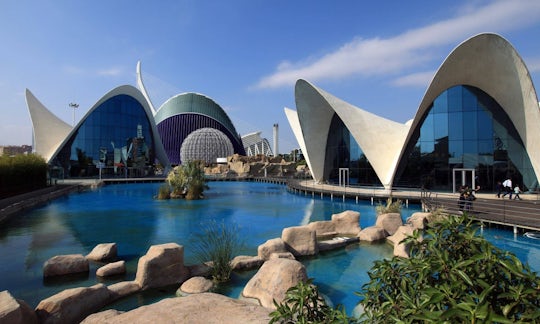 Discover the Oceanogràfic of Valencia and learn about the most important marine ecosystems booking this offer of entrance tickets and a guided tour.
Itinerary Details
Operated by: Musement S.p.A.
Valencia's Oceanogràfic is the biggest aquarium in Europe with 44 million gallons of water and hosting more than 500 animal species. Get ready to discover its secrets and see its most majestic creatures thanks to this guided tour.Located within the state-of-the-art architectural complex of the City of Arts and Sciences, this place faithfully reproduces the most important marine ecosystems, from the warm tropics to the cold North and South poles. It features the largest dolphinarium in Europe, with a total of 26 million liters of water and a grandstand with seating for 2,000 people!Discover the Oceanogràfic with the help of an experienced guide, learn more about the different species of marine wildlife that live in the aquarium and see them in their natural habitat. After that, enjoy bottlenose dolphins' intelligence demonstrations through a surprising and educational exhibition.